We recently invited friends at home for another dinner "à la française". This time, we made several dishes, some kind of tapas, in order to propose a lot of French specialties: we thought it would be more fun for our guests. We opened some bottles of red wines and the Frenchie illusion was perfect.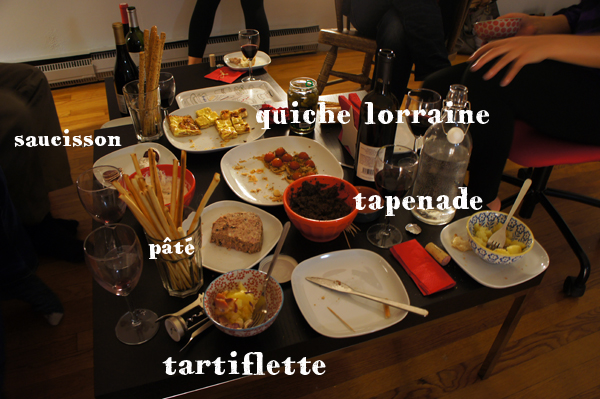 Regular guests will recognize Manu's famous sauce au thon (tuna sauce)
It seems odd to cook French dishes (with local products) such as quiche lorraine (a sort of bacon and cheese pie) and tartiflette (potatoes and cheese gratin – we made it with Vermont cheese). But the guests seemed happy, or at least, were very polite.
When it's time to cook at our place, we haven't switch to American food (I'm not ready to cook stuff like that). But I'd love to learn. However, I wonder what were the dishes American loved when they were young. I asked to my friends, and this is a sample of this inquiry 'what did you eat when you were young'. Everything was totally new for me!


Girlscout Cookie
Our friends are happy : the season of Girlscout cookies is back. What is that? I knew that scouts sell calendars, and sometimes they can sell pies or cookies (their parents will buy) to make money for a summer camp. But these Girscout cookies, it's bigger. Two main flavors, chocolate-mint and caramel. Everyone has is favorite. There's also two ways of eating them: frozen or room-temperatured. In front of my incomprehension of all this enthusiasm, Linda offered me some cookies. I was naïve and thought they will be packed in some random plastic bag, with a handwriting name of the girl who's made them. No. Nothing like this. This is a real cardboard box, with an ugly picture of children laughing and playing outside (basically the definition of Scouts). Linda told me to not expect a big deal, she likes them because of a childhood habit.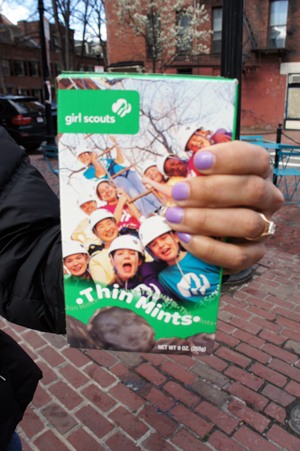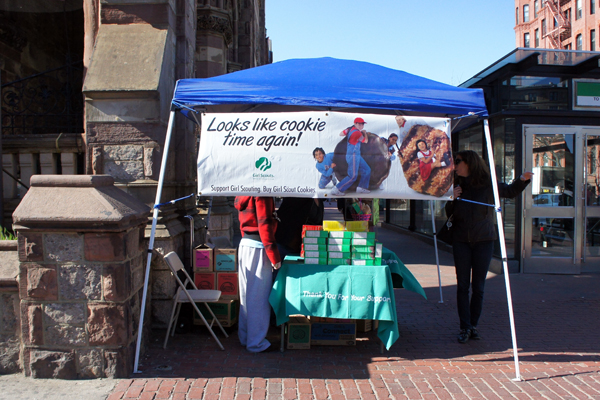 To sum up:  I like them. I mean, in fact, there are plain biscuits, with all the folklore that really matters. I tried both options: frozen and not. I prefer the first version which strenghtens the mint flavor, and the cookie is more crunchy like that.
Mac & Cheese
It's another American « madeleine de Proust ». I had to figure out what Mac means. Okay: macaronis. Easy, but for me macaronis are bigger pastas, these are more like coquillettes, meaning tiny shells. For only 99 cts, we can buy a pack of Mac&Cheese: pasta + cheddar (powder). Linda told me this was the kind of dish a "Latchkey Kid" would make for himself. I didn't know about this concept, even if both my parents were working when I was in junior high school.
To sum up : I won't say it's totally awful. It's just that's the cooking was not very natural: to pour all this cheddar powder… in a way, it disgusted me. The taste was okay, slightly sweet. I keep the idea in mind for food shortage day.
Marshmallow et s'mores
Grilled marshmallow isn't an American legend: it's true! I saw pictures, and I saw the smiles on the face of my friends when they're talking about this. I didn't know about s'mores (well, it's not completely true, I editing once a book about this in Paris, but  not the real American ones…). I never tried them, but I would love to. These are not my pictures, Linda gave them to me, they were taken last summer in Maine.

However, she told me to stop buying Fluff. It was one of the first candy I tried here, I thought it was famous. She told me that nobody eats that (hum, why are they selling it in the supermarket?!)
For breakfast: Pancakes ou Chorizo and eggs burritos
In France, your region will give you strong habits. No surprise: it's the same here, but much more bigger, of course! One of my friend has here dad who is from Mexico, so she remembers her grandmother cooking chorizo and eggs burrito for breakfast (salty breakfast, interesting). And everyone agrees to say that pancakes are the best breakfast. Their main quality is to be fluffy (I like that word: the sound of it makes it real).
And what about peanut butter?
I've never ate peanut butter. I learn that they were several types: creamy, chunky and natural. I was recommended to buy fresh one in Whole Foods or Skippy or Jif. The benchmark is highly  recommended! I hope it's not too good. Last year, I had a passion for « crème de spéculos » (a cream made of a cinamon biscuit) : it was insane.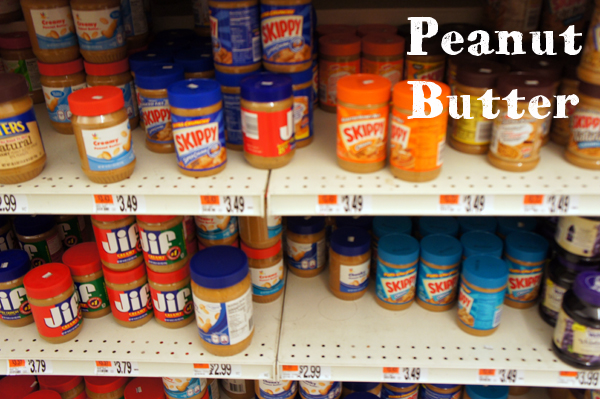 How did we eat peanut butter ? As plain butter? I have no idea of the PB&J. I like this name too !
Thanks to Linda and Corina  for their precious help