It's now time to discover the Seaport District, in South Boston, an area we'd
never been to before. In this area you can find the Institute of Contemporary Art
and a nice walkway along the seaside. We tend to forget it, but we do live by the
sea (obviously not the Mediterranean!). This walkway actually goes all around
the city, but if you follow it all the way around : maximum freezing guaranteed.
First of all, mini-complaint: going around Boston using the public transport isn't
that easy. The city isn't that well served by bus and T system.
Bike (and all the needed fleece clothes) will be of great use. Here we can't really
rely on the principle according to which "the shortest distance between two
points is a straight line". The truth is we don't make plans in advance, or in a
rather chaotic way, so I can't really blame MBTA. Have brunch in Cambridge +
visit the museum in the south = bus, subway, walk, subway again, and ending up
walking.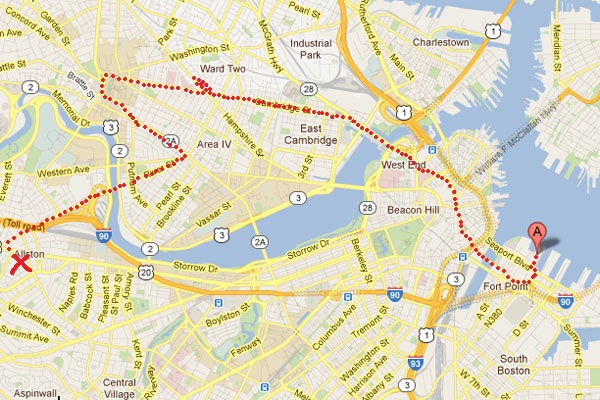 Luckily, it's still daylight when we get to the Seaport District. Old renovated
factories, wide avenues, massive red buildings, metal bridges: this is awesome!
It's also very quiet on Sunday, we notice the city is rather empty. Apparently, this
area used to be quite sketchy (unreliable source : Manu during breakfast, but he
couldn't remember where he had read it).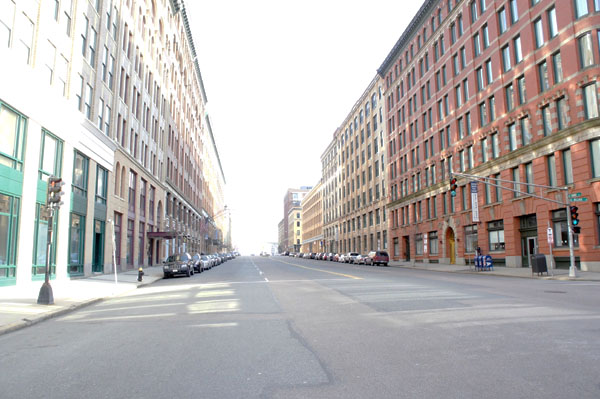 Our place isn't by the seaside, so I'm really happy to be by the water's edge. No
beach in this area (it's either further North or further South). This waterfront
walkway is very enjoyable: many tables for picnics, paths for riding easily. I can't
wait to come back here when the weather is nice! All along the path, panels tell
the 350-year history of the city (probably quite ancient for Americans but rather
recent for us Europeans).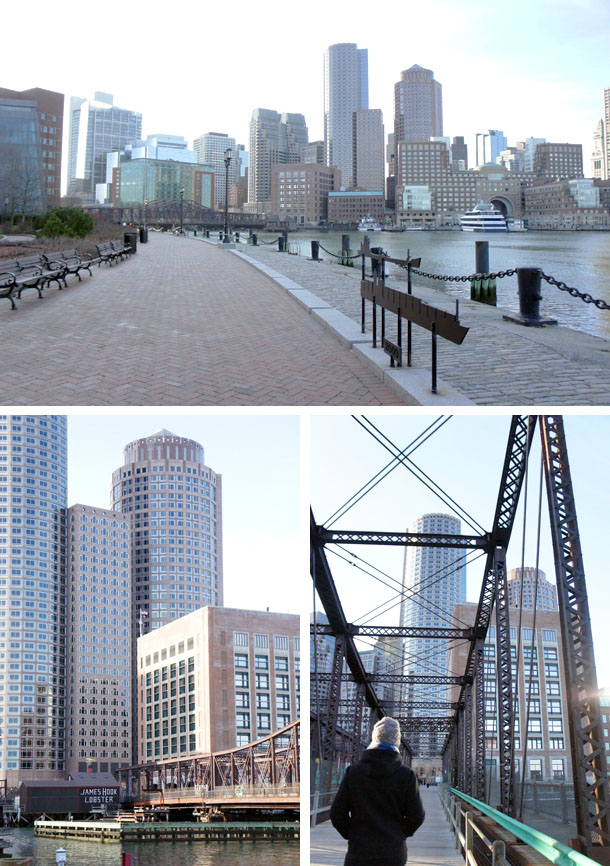 Stuck in the middle of big buildings, the museum building looks poky. Located at the back of a battered parking lot, it doesn't seem so appealing. But wait and go inside! It's actually large and great. From outside, we admired the cubic shape going toward the sea. The building reminds me of the Copenhagen Opera.
Inside, one of the rooms literally overhangs the sea, giving you the feeling that you're diving into it. Unfortunately, taking pictures of the exhibition wasn't allowed. Too bad because we saw amazing and very interesting pieces of work (Josiah Mc Elheny, Ivan Navarro, Cornelia Parker's Hanging Fire). The smallness of the museum was quite frustrating, all the more so as one wing is currently closed.
Eventually, the museum shop offers the largest amount of things to see ('sigh'). One good point : with the same ticket, we get to come back for the next exhibition !