I've never been to Australia, for one unique silly reason: it's too far away. And vacation over there would require more than 3 or 4 weeks. Maybe one day… for now I'm reading the blog of two French expatriates, Les Chercheurs d'Oz. Two people working on it: the Grande Blonde (aka LaGB), who's the talented writer, and the Grand Brun (aka LeBG), who's the official photographer. We can also see their mascot in their awesome videos, a sheep called These. It's been almost two years they are blogging. If you want to know them better, here some questions the Grande Blonde answered…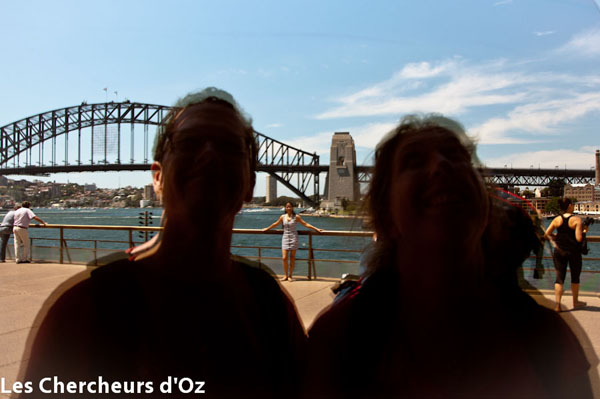 Why did you leave France for Australia? To work. Acutally, to be more accurate, we found a job allowing us to leave for Australia. We've always wished to live in Australia but even without really knowing it. Sometimes fate is a great provider: my PhD was over, I was looking for a postdoc contract (searching especially in Australia), and we've got an unique occasion. Our kid dream became true! We didn't hesitate for one second. We partied every days before leaving (we are from Bordeaux, so we had lot of bottles of wine to drink). After a few weeks, we were really hangover, we only had two pieces of luggage, plane tickets and a blank page to write.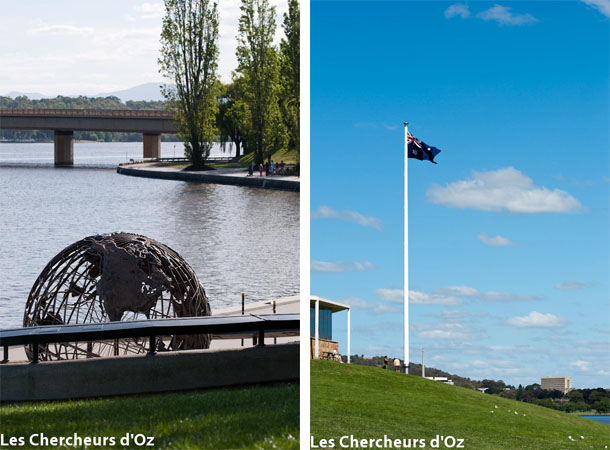 What do you like in Canberra? When we told people that we were about to leave for Canberra, we heard two main reactions: "Where is it?" and "Oh… poor you". So when we arrived there, we were expecting "something". And then, after the first surprise (Canberra airport, even if Canberra is the capital, was not an international airport, we went down from the plane directly on the tarmac, there was only one tiny carousel to pick up the luggage), we fell in love with the city. It's a very pleasant city to live (except during winter, which are very cold). It's quiet, but not that sleepy as we were told. Living in Canberra, it's like living in the countryside, but downtown. Trees are everywhere and so are the birds, and the possums, it's pretty common to see kangaroos at night, or even during the day in the suburbs. There's no stress, no traffic, and almost no air pollution. That's why there are tons of nights skies full of stars we can delightfully watch in our backyard (with a pint of beer).
The shore is only two hours drive from here, mountains and snow too (yeah, it snows in Australia, and we can ski!), Sydney is only 3 hours away. That's why Canberra is ideally placed for weekends.  And if we want to stay in ACT (Australian Capital Territory, a special State created for the Australian capital), there are a lot of fantastic museums and we can also hike close-by.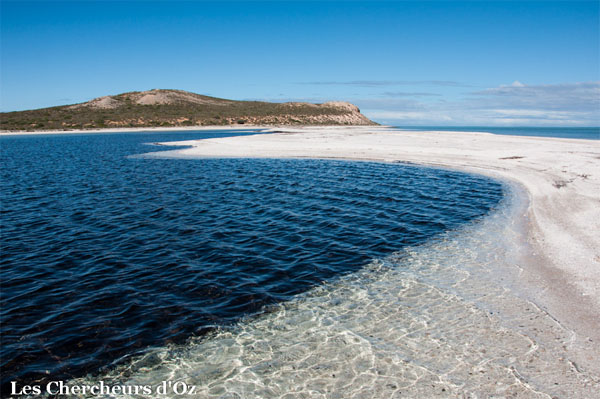 What do you not really like in Canberra (and in Australia)?
Oh… well… I would say that I'm annoyed with…
 the weather, or to be more accurate, with the fact that the houses are not so well isolated. Temperatures are very low during winter, and we're used to spend time in our bed to protect ourselves against the cold.
public transportation are pretty bad, and expensive.
In Australia, there are… too much dangerous animals and bugs that sting, bite or just eat unlucky people. But well, we've learned quickly to know what to do, at least against spiders and snakes.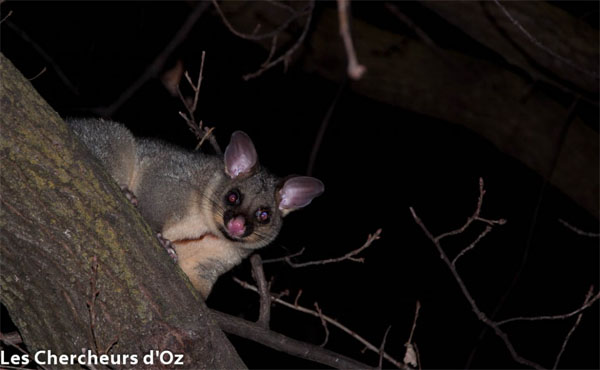 What strange animals have you seen? Australia is full of strange animals (and plants). For the past two years, we saw possums in our backyard ; a tiny and light sugar glider ; a musk duck, a kind of duck known for its loud display and its aggressive behavior against other birds (we don't know how it would react against humans, we haven't try yet…) ; some fearful and cute échidnés ("the Spiny Anteater") ; very shy wallabies jumping from one boulder to another ; blue tongue, lizards with a blue tongue ; three platypus in a lake or in a river ; a dugong ; funny yellow cockroaches with blue foot. We haven't see whale shark yet. We have seen so many kangaroos, emus, some koalas, dolphins, whales, sharks, wombats, bandicoots, snakes, kookaburras and multicolored parrots.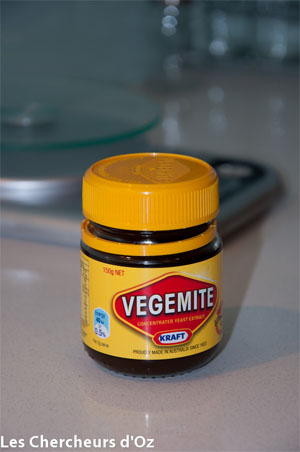 What is the Vegemite ? Vegemite, is  disgusting an Australian institution, a true symbol, the pride of the country since 1922. People eat Vegemite since their childhood ; they eat it the morning spread on bread with butter, or for lunch in sandwiches, or at night with crackers and cheese… And so what is it? Well, it's a food paste made from yeast extract (made from used brewers to be more accurate). You can say it's solid beer, without bubbles, the foam and the good taste. It smells a lot, it tastes like a sort of soy sauce and dry fish (…not very fresh). Well, at least, that's how I see it, because  LeGB has fall in the obscure side of the Vegemite pot, and thinks it's really good. I admit that it can be okay spread on bread…
What's your favorite Australian specialty? Australian cooking is a huge melting pot. As Aussie specialties, there are meat pies. We've changed our way of cooking, and now we are using beets and pumpkins (beets in burgers are great), gherkin relish (a kind of chutney with pickles), barbecues even in the middle of winter and even on our terrasse, with crackers and cheese. However, we had to drop good butter and saucisson (salami). Life is unfair…
I like your 100 things to do in Australia… When will you do the number 1? Next year! LeGB will celebrate an important birthday… so it will be the perfect occasion. Everybody who has already been to Lord Howe Island says it's the most beautiful Pacific island… There are tons of stick insects, species of plants and birds (the photographic passion of LeGB since we are here). And the idea of spending time on a tiny island of 14 km2 close by Australia, isn't it charming?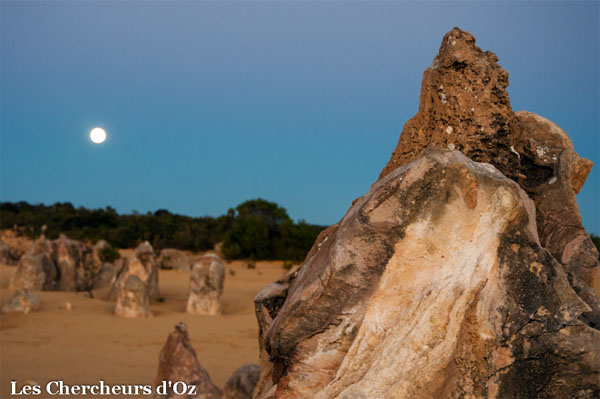 What does the blog bring to you? A lot of things! Chercheurs d'Oz, our blog, is our diary, a great way of reminding every marvelous things, laughters or issues with the language we have. It's the best way to keep a fresh eye and to stay curious. It's a bond with our families and friends, and with new other people. It's our way to share "our" Australia. And it's also a shared space for both of us. We improve our personal skills through our passions: taking pictures for LeGB and writing for me… I might not have try to jump from reading to writing without the blog. It's a great way of challenging ourselves.
When will you be back in France? Or do you have other plan to live abroad? We hope to stay in Australia as long as we can, more than the 3 years planned at the beginning. We have started paperwork to stay permanently there. We totally figure ourselves living here forever. If we have to leave Australia, we won't come back to France. Nor in Europe. We might go to New Zealand, in Asia or in the USA… We would love to stay in Australia, in Canberra. Or why not in Perth, Adelaïde, Brisbane or Melbourne. There's is still so much to see in Australia!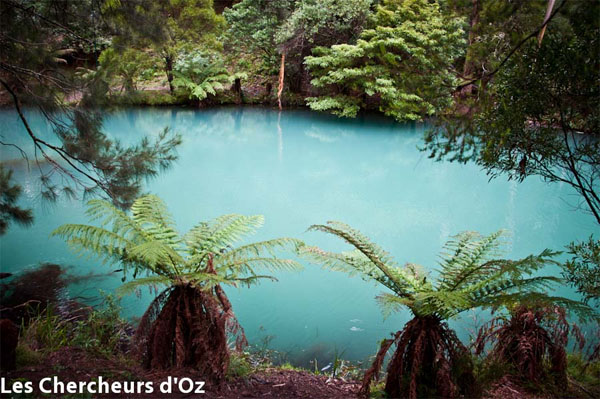 Thanks a lot to laGB for answering to my questions. If you dream of Australia, visit her blog (in French)  Les Chercheurs d'Oz.