When Manu went alone in Boston for the first time, last September, to do interviews for a job, he brought me pics of the city when he get back from Paris. There were a lot of photos of Newbury Street, Manu thought it was nice, and told me we could live there (it was before knowing of the renting prices). Just by looking at his pictures, I couldn't figure out how the street really was. I looked at them a lot, trying to find some random detail that helped me know if I really wanted to move and live there.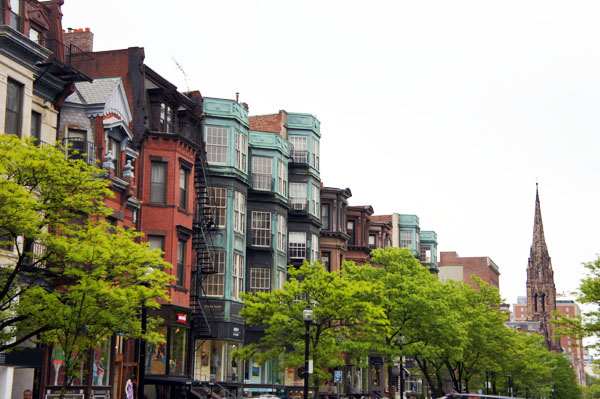 Without any particular reason, I let myself be seduced by a kind of 'Boston Calling'. When I went in this street for real, the first time, I thought it was more original and more friendly than I've imagined. Newbury Street is located in the very chic Back Bay, it's always introduced in tourist guides as THE street to go shopping, drink a coffee or go out for a brunch. Actually, I pass through this street a lot, but I never really take the time to look at it…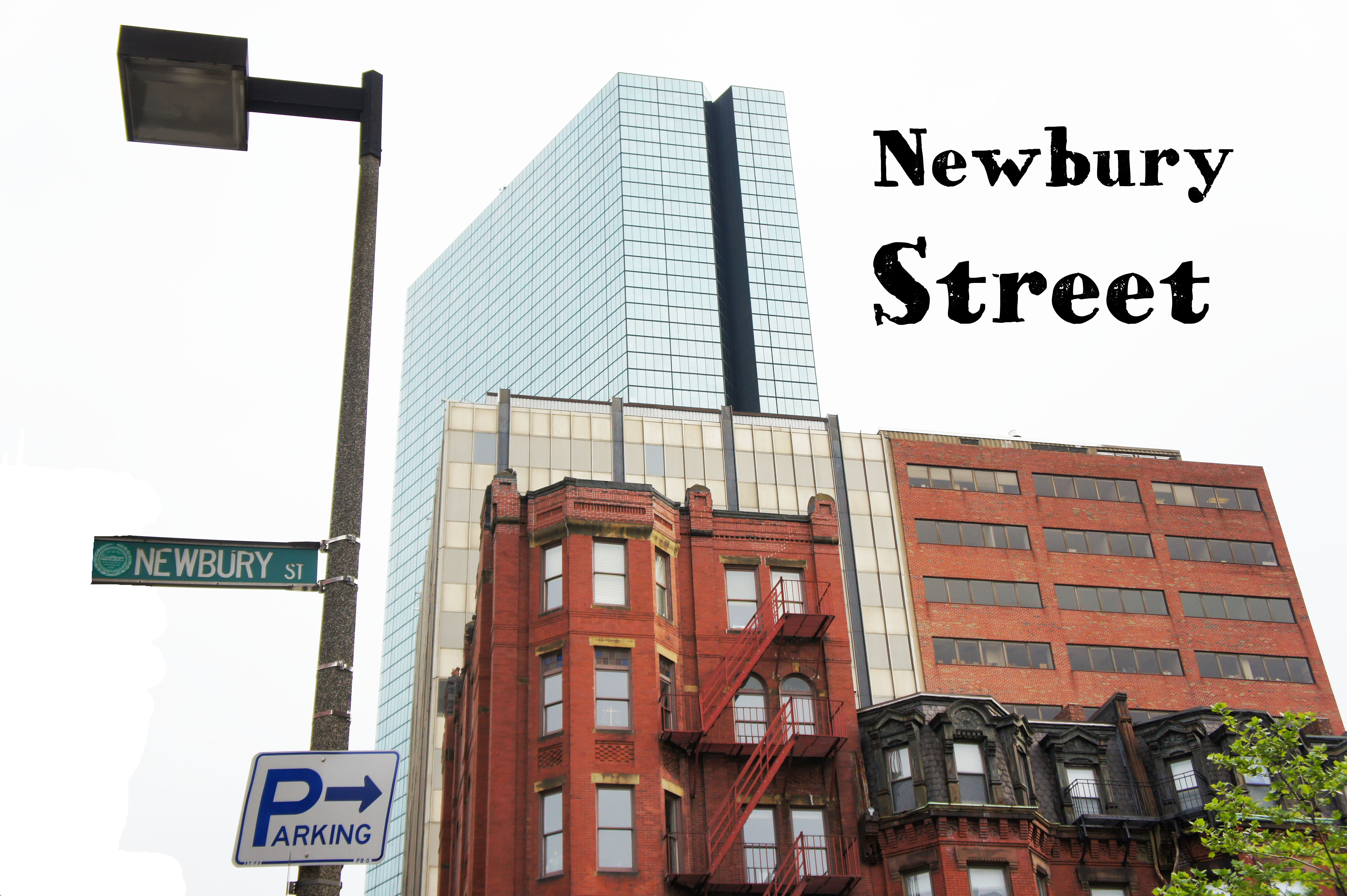 Back Bay is the only 'well organised' area in Boston (I imagined before that every cities in US looked like a giant checkerboard). The rest of the city is more chaotic, which made it paradoxically easier for me to know where I am. At the beginning I couldn't understand how worked this 'net of streets', but as nobody says Let's meet at the 250 of Newbury St. but instead some strange code : Let's meet between Fairfield et Newbury, I realized that in order to have a social life here I have to be able to decode this system (and to be able to understand when a friend – American – told me with a strong accent the names of the streets, that's not easy).
In Back Bay, I was told that streets are organized in alphabetic order: close to the public garden there's Arlington Street, and then, Berkeley, Clarendon, Darthmouth, etc. That doesn't make sense at the beginning. And then I realized that you have to cross these names with names of big avenues (that cross all the city, you get used to these names: Commonwealth, Beacon St., etc.). #Battleship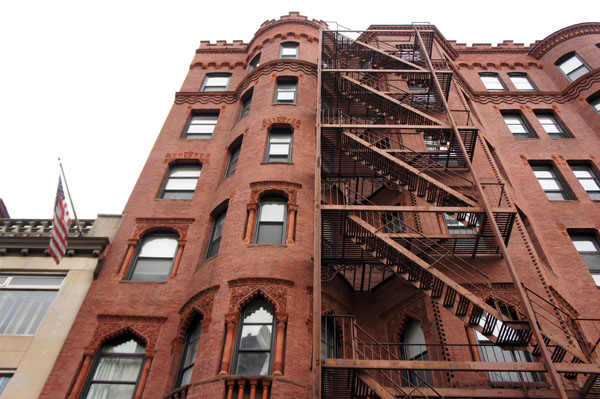 Architectural style is Boston is pretty eclectic. European standards can't simply be applied. There's a lot of buildings that I can qualified as: Disney Land castles, spooky doll houses, charmless cubes. On Newbury, it's very diverse too, even if there's a lot of brownstone buildings, as on the picture above. This building shows this bizarre style-mixed: window as an Indian temple, stairs as-in-New-York and castle crenels.
NB : Architecture School of Boston is on Newbury St.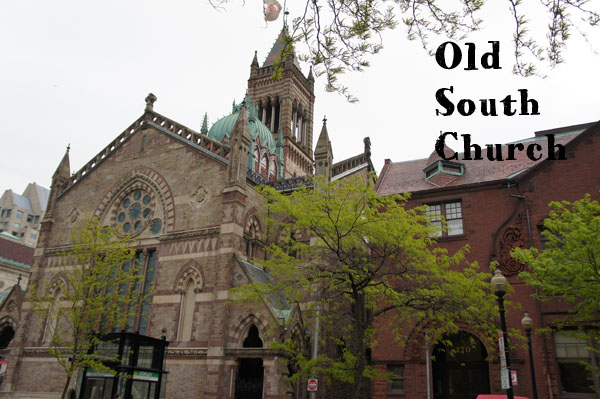 Close to Newbury St, on Boyston St, this church shows too this architectural style, a bit confusing for me. But nice!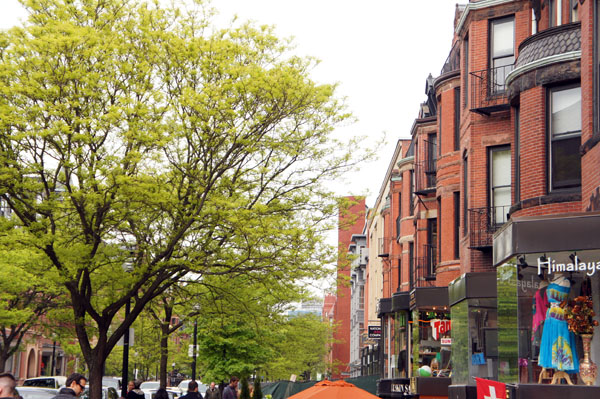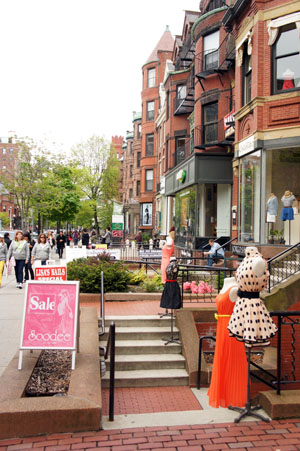 There's a lot of restaurants on Newbury St., but we don't hang out very often in this area. The true entertaining stuff of the street consists in all the shops. There's a very chic side (Chanel, Hermès, Donna Karan) and on the other side American labels not represented in France, so I'm glad I can go there (Urban Outfitters, Madewell, Anthropology…). Three levels for each shop: level garden, first and second level.  So even if the street is pretty short, it's very concentrated. You can see that sellers show outside clothes. I saw that on the pictures of Manu in September, and I found it super strange and creepy. But now, I just like it!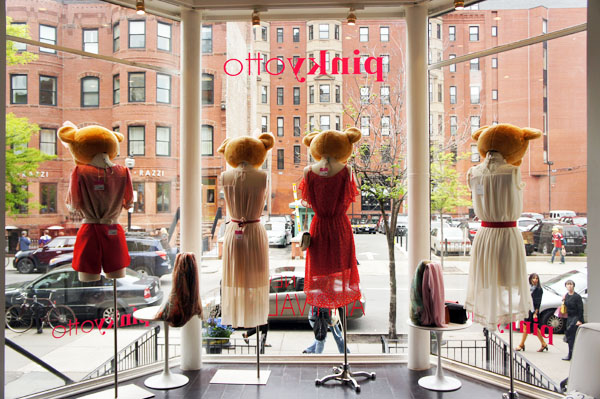 Pinkyotto, I like this shop, but I've never bought anything there yet. I'm waiting for a shopping associate.
Sports clothes (I have to admit it: I've bought clothes dedicated to sport, not random cotton clothes from H&M; I have to be careful, I'm starting to wear them on the street and even find them very comfortable).
A hat shop I really like to go in…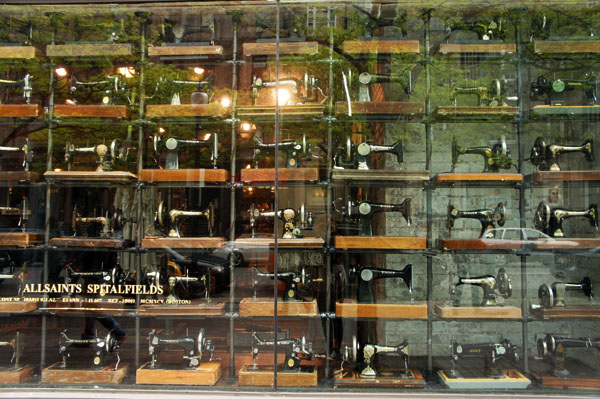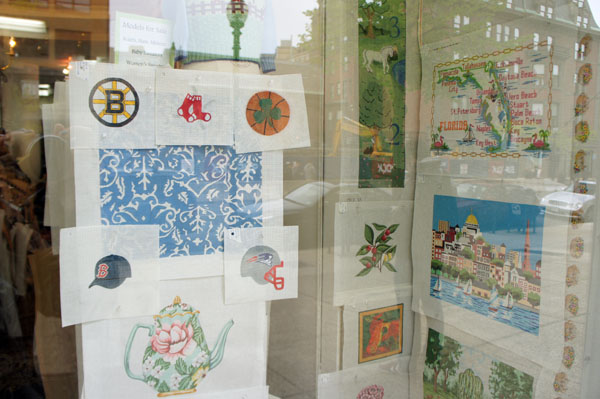 Canvas made at the image of Bostonian sports teams (when he was young, Manu has a passion – no longer secret – for canvas ; my question is now: can we establish the right to do canvas in public places? It's easy, relaxing, and even if it's ugly when it's done, you can still offer them to the family because it's hand-made).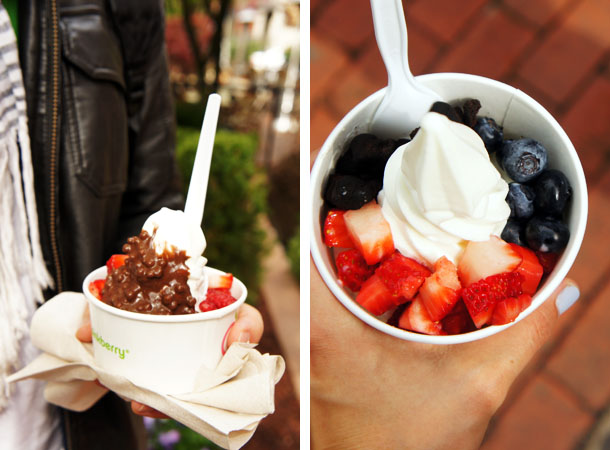 Yummy! We hade a frozen yogurt break at Pinkberry. I've never tried it before (the closest thing I had was Sunday at Mac Donald, but it's more creamy). I've been reasonable and had a natural taste for the yogurt, and fresh fruits for the toppings (okay, and bites of brownies). Express review: (1) it's very cold (2) this has not a great culinary interest (3) it may be very addictive. I passed in front of the shop 2 days ago and my mind went crazy, I wanted a frozen yogurt.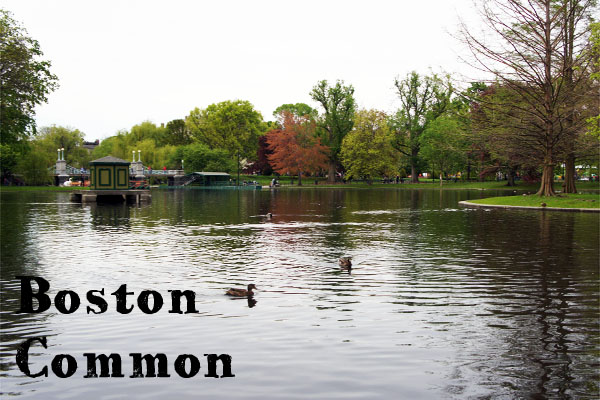 At the end of Newbury Street there this big public garden, the Common. When we arrived in January, we thought it was sad, even in some ways ugly (the grass was gross, trees looked dead and there wasn't any flower. Okay, I know, that's how winter looks like). But now with flowers, leaves, etc, I'm loving it. And there's a lot of cute squirrels and "swan boats".