My conversation partner invited us for a "night's game". She had also invited a friend who is a chef for a cookbook publisher. I love the coincidence (that was my job in Paris). Before accepting her invitation, I asked what would be the games: Scrabble, Scattergories, Taboo. Ok, games based on words (Maybe I can  do mime or sing?). We will meet at 5?30 pm, for a buffet and wine.
Cultural aside: Dinners are early here (very serious study based on three diners). And we already had invitations with the departure time indicated. Not used to.
We arrived one hour after the 'requested' time, Manu could not leave too early from work. I planned to make crêpes, I know it is cliché but I assume they will like them. The chef brought from deli and cheese, and our host had prepared lots of dips and cookies (I've never eaten such good ones). My crêpes with sugar looked so 'amateur'…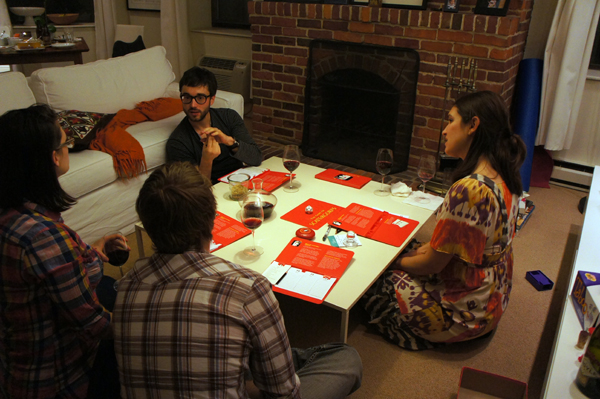 We didn't play Scrabble. It was a relief because I was already imagining us with 3-letters words, or worse, invented ones. We played Taboo and it was a lot of fun. Some cards were fatal to us: American famous people (but not famous for us, as Martha Stewart, TV guys or politics), or unknown words.Well of course at the end of the evening I felt to be super good in English and speak fluently, but sadly, it's just a side effect of the alcohol.
The chief-cook-who-works-for-a-publishing-house offered us to come see her. Yay! I discovered America's Test Kitchen, it's totally new for me. All the recipes are tested several times by chefs, led by the publishers, and even a scientist. After multiple tests, each recipe begins with a story about how to do it, which included failed tests. I'm not used to that at all, and I love it!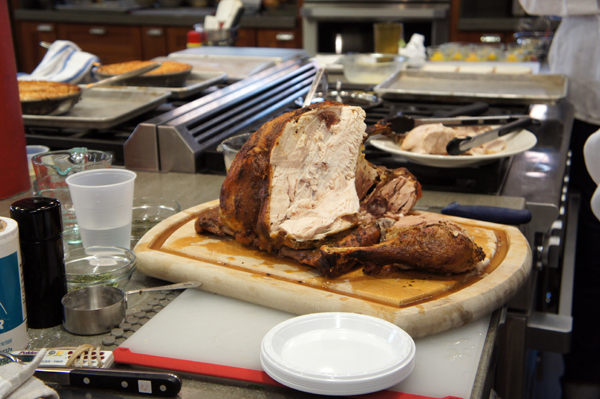 Daily, they test new recipes … and at night they take home the leftovers.
A large library with thousands of cookbooks, two large kitchens with lots of food stocks, studio photos with styling accessories, and offices : this is a very nice place!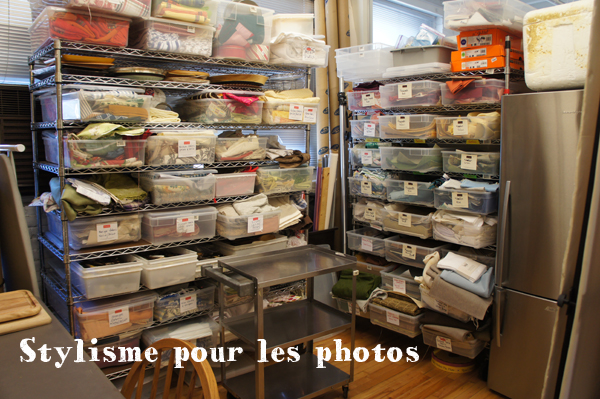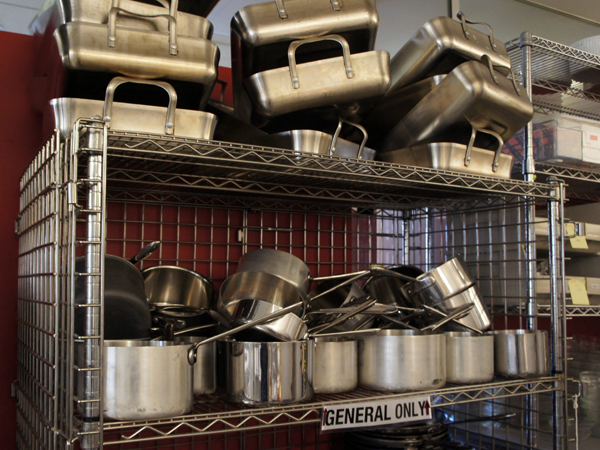 They get tons of letters from readers: people who ask if they know the recipe for an almond cake made in Tennessee in the 50's, or why the icing on their cake didn't make it in the fridge, how to make potatoes baked crunchy and chewy without being all burnt. And the editor/chef do test in several ways to respond in the best possible way.
I love that !
Very nice dinner, great meetings, and I'm glad I discovered this publisher absolutely unknown and unique! I don't even know if they are famous here, but I guess so.  Maybe we should get a TV, I feel that we don't get a huge part of the American culture…