(Find all posts about our road trip here)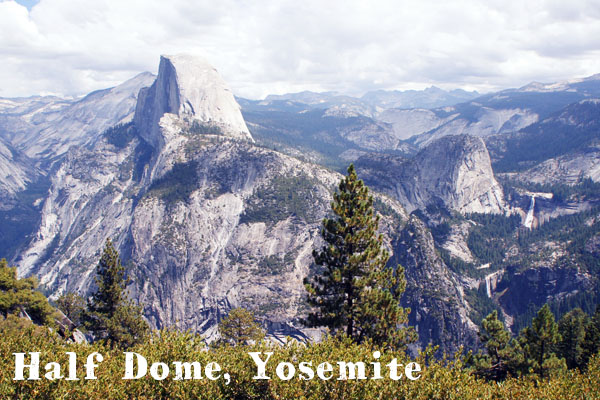 Second step of our road trip: Yosemite National Park, in California. I don't really know what to expect about it before going there. I've seen pictures, but it's hard to figure it out for real. I had to convince Manu to give up on Sequoia Park, which is not really on our way… and I promised him that we would see giant sequoias in Yosemite anyway. I've promised that Yosemite is really worth to go. I was totally reassured even 50 miles before going in the park: it was already gorgeous. As soon as we pass through the ranger cabin, it's even better.  Even if you think you don't like Nature, here, it is The Nature. Yosemite Valley, it's The Valley, The Trees, The Mountains, The River, The Waterfalls. Beautiful landscapes in a small aera. It's just crazy!
Tuesday afternoon, we leave San Francisco, happy to go in our modest but strong white Kya we have to rely on for the next 15 days. We drive for 3 hours at least, to reach Mariposa, a small city close to Yosemite park. It's pitch dark and we are looking for our camp, Yosemite Bug, whose name frightens me (it sounds like Yosemite Bed Bugs). The GPS asks us to leave the main road, and we drive on a small trail on top of a hill. The GPS tells us with its cold voice, in front of a dark trail: "You have reached your destination". Silence in the car. We are afraid to have to sleep here, it means nowhere. We come back on the main road, and we finally find the camp entrance. In the middle of a charming camp, we climb narrow stairs and we come into our tiny cabin. 4 beds are stuck, and there's no more space when we drop our luggage on the floor. Lack of privacy will bond our group. Everybody is happy to sleep in the nature (even if I'm sure it's full of spiders and other bugs, so we almost showered with bugs spray before going to bed, which lets us in a state close to suffocation). It's very hot inside, we sleep with the door wide open, hoping that no bear will come and awake us. Fortunately, Léonore sleeps close by the door.

Wedsnesday, 6.30 am. Temperature have fallen and everybody get a blanket during the night (except Pierre, who was chilling). We have to take a shower to be awake. Comfort is basic: bathroom, showers and toilets are in the same place, only separated by wooden walls, there's no doubt about the nature of the activity.
We leave soon after a big breakfast, we have one hour left to arrive to the park entrance. There's a river along the road, and on each side, we can see dramatic cliffs. I'm close to the window so I don't miss the show. At the park entrance, a ranger welcomes us, strange hat on the head, and tells us a joke to be nice.  He sells us an annual pass for National Parks (80 $ for all passengers in the car – or it costs 20-25 $ for each park). The road continues in the valley, and then, BIM, we see the magnificient of the valley…
View from the Valley: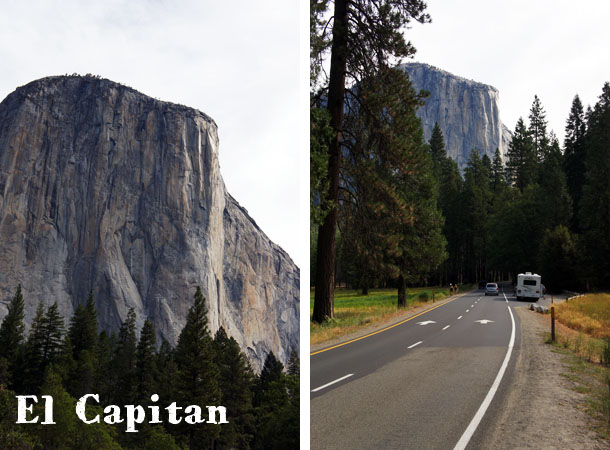 First point of view in the park: Yosemite Valley. Granite grey cliffs are high, but this glacial valley doesn't seem very narrow ; there's a river in the bottom. All around us, domes and peaks, and the famous giant monoliths. We recognize easily El Capitan, but we can't see now the Half Dome, we'll have to walk. On the map, we can read the camp names, which names sound Native American, actually, tribes used to live here for more than 4000 years. But there were all massacred in the mid 19th century… and  in 1855, the first hotel was built in the valley. That was pretty quick.  In 1890, Yosemite became a National Park to protect… the Nature.
We decide to do the 'Four Mile Trail' (about 6,5 km, but only one way – a detail we haven't foresee at first… We look like amateurs with our straw hats and cute sneakers. Anyway, it's 10.30, motivation is high, we want to see everything, and we really want to spend the day to talk French with our friends, it's been a long time, we want to enjoy it!
Valley seen from the "Four Mile Trail":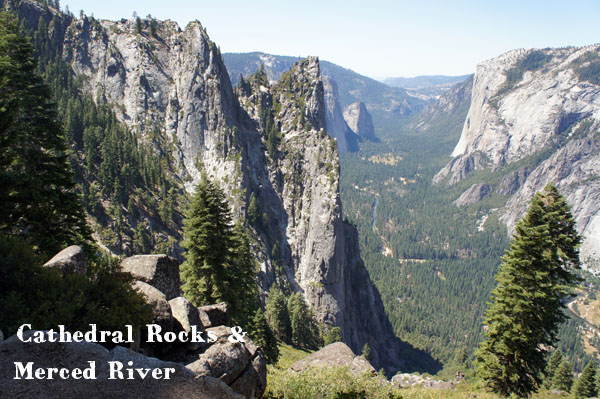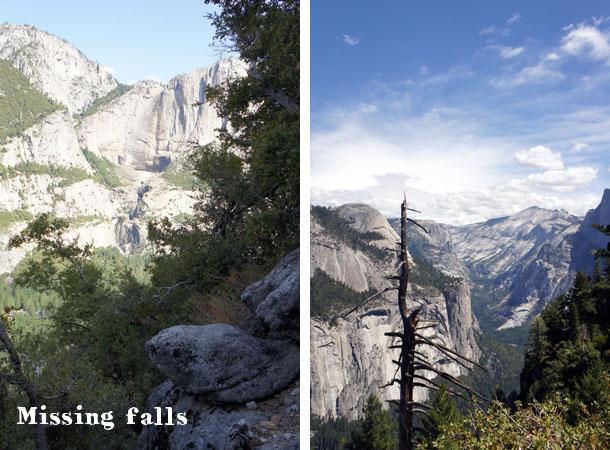 No waterfall in August… Too bad!
On the way up, we talk, and then with shorter breath, we talk less ; landscapes change at the end of each loop, we take pictures, we climb, step by step ; we see people – not too many, squirrels – a lot. Pierre complains about sweating, it's true that's it's pretty hot right now. "When will we arrive?", there's only one answer: we have to keep walking. We wonder if we'll see bears or  montains lions, we repeat the security rules, we are ready to scream, run or jump (I'm not sure we are ready for this).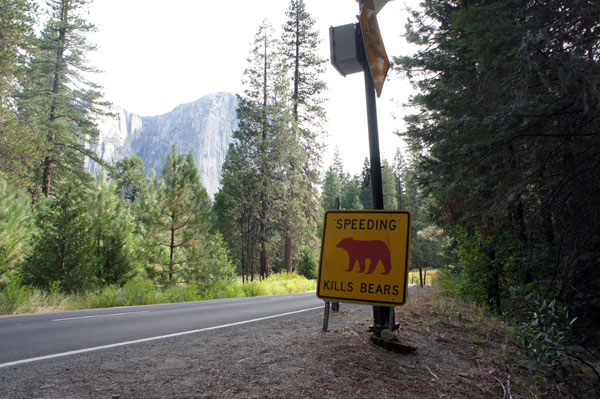 A bear was hit by a car…
And we finally get to the top: Glacier Point! We didn't see a lot of people on our way, but as soon as we get to the top, there are tons of people. They arrive there by car and they  will look great on the pictures, meanwhile we are tired and with awful hair. That's unfair!
View of the Valley, from Glacier Point: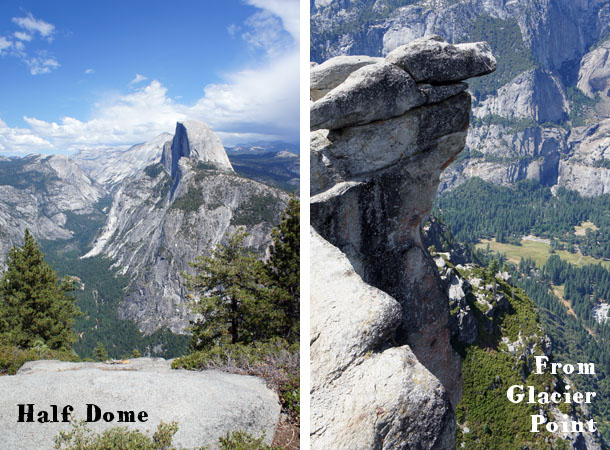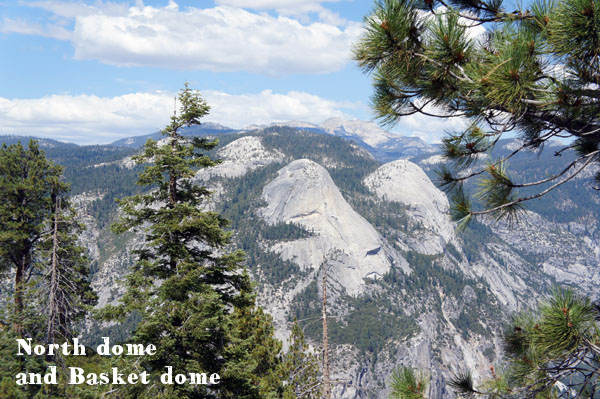 Some existential hiking questions:
Do you really have to go to the dry toilets? The sickening smell should keep animals from distance, which is a good point. We are glad to participate to an ecological gesture towards nature, so we are ok to be cheap on water. But, let's face it: it's inhuman and frightening to go in there. We'll get use to this nauseating floating smell in the various parks we'll visit. The other option (if we want to avoid them) is to go in the woods, with the bugs and bears, at least. No way.
Can we come back by bus? We are so tired and sweaty, we deserve a bus ride. But the ticket costs 25$ per person, and the schedule is not very convenient. We are forced to take the Four Mile Trail in the other way, to come down. I'll send an email to the park asking them to change the name and say "Eight Mile Trail".
When we go down, what is the best way to walk: to run like rag doll, or to stay  tighten, specially in the knees? We try both options. We arrive to the car around 4pm, full of dust but smiling.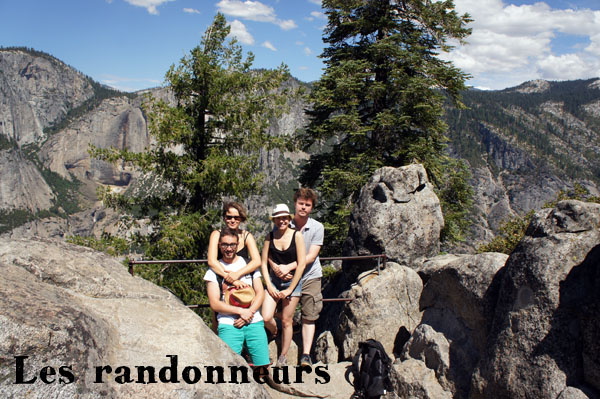 At the end of the day, we go to the Mariposa Giant Sequoias Grove (I'll talk about it in another post). We are very hungry (even if we had good lunch packs bought in Yosemite Bug), we hope to find a place still open for diner in Mariposa. It's 8.30pm, which means it's very late in the US. We go to some random sports bar, and it's a very good surprise! On the wall, riffles to decorate and on TV, base-ball: perfect. We order a delicious and huge rib eye steak and baked potatoes: easy, rustic and good.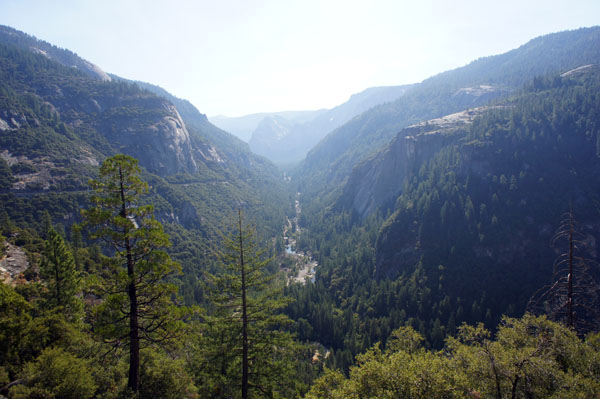 The day after, we already have to leave the park. We take a road towards the North East, the Tioga Road, which is a 40 miles scenic road. We only do 3-4 loops and we can already admire theTunnel View. That's the awesome part of our trip (in Yosemite and everywhere else): landscapes change all the time, and they are always gorgeous and surprising. Nature is Beautiful (I should trademark this one… maybe for the dry toilets).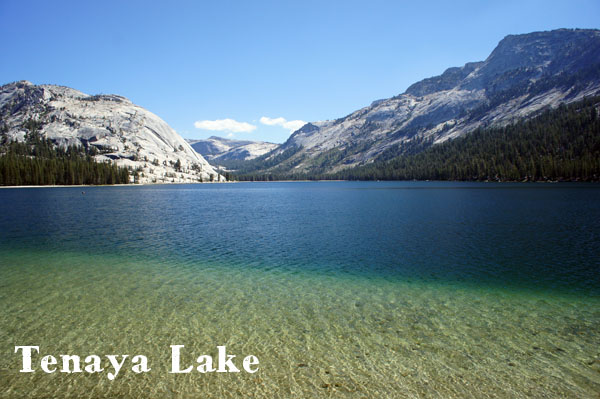 We stop to see Tenaya Lake with fresh and sheer blue water. We love it (it's typical double rainbow phenomenon). I'ts nice, it's quiet, we feel good: that's vacation time!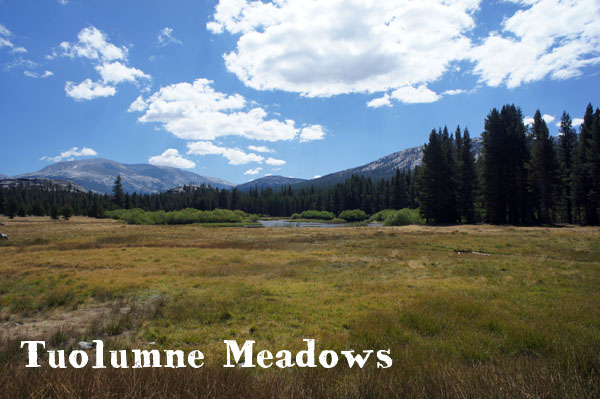 We arrive to sub alpines meadows: Tuolumne Meadows, with the Sierre Nevada on the back. We run like wild people, singing the air of the Little House in the Meadow. I totally figure out cowboys, Indians and horse carriage (in some fantasized historical idea). Léonore is looking for prairie dogs…
We've learnt soon after that a mortal virus was in the valley this summer. But we ignored this detail when we were there, so no useless panic…