Last Sunday night, to avoid the spleen of this specific night, we wanted to spend time outside. We always see people running, and we wondered "why not us", and then we really thought about it and said "not us". So we went out, but with our bikes. We crossed above a turnpike on a footbridge, and we arrived along the river, more or less quiet. The biking path runs for more than 25 miles, but on the video, you'll see we only ride along Boston and Cambridge.
We have to share the riding path with a lot of runners (sometimes they even go faster than me on my bike). They're always here, day and night. There's the running parade, every ages, every body shapes. They're here. For stretching, they even got their own outdoor gym. It looks like if they were preparing a special army training (good for me, I used to love watching this kind of program on TV, boot camp, SWAT program – not proud of it though). The contrast may be funny (or annoying): people are doing push-up and close to them people are picnicking.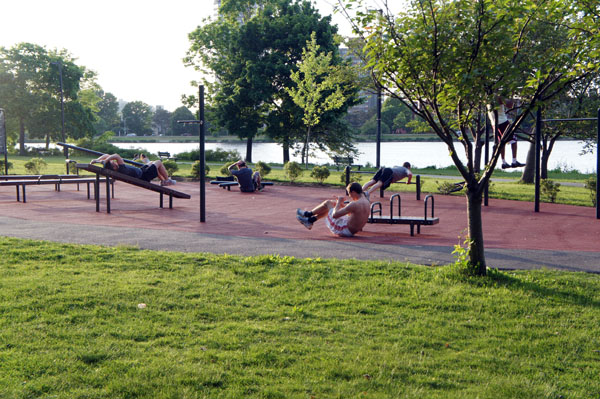 More chic, boats – sailing and rowing – quietly sail on the River (I mean quietly from my point of view, I'm not sure is that easy for the poor oarguy).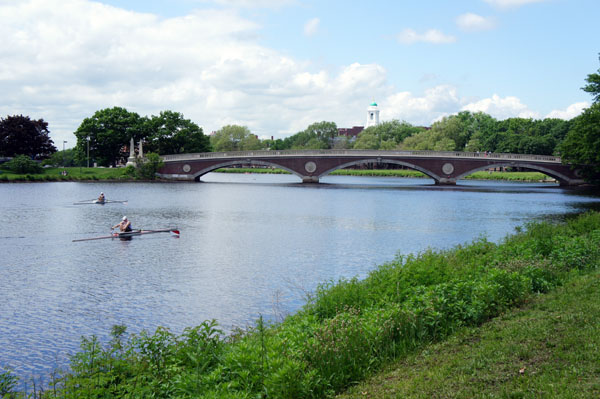 I was told that Harvard team get up at 6am to train (this piece of information hasn't – for sleeping reasons – been confirmed)
I've learnt that they are different kinds of 'rowing' (until now, I only the word 'aviron' close to rowing I guess. Every flat boat was rowing – or aviron –  for me):
rowing: each oarsman has only one oar, always on the same side, 
sculling: each oarsman has 2 oar, on each side of the boat – that how I figured aviron was.
dragonboating: more chaotic, everybody rows, but I don't know if you have to stick to one side; contrary to the others boats, oars aren't attached to the boat.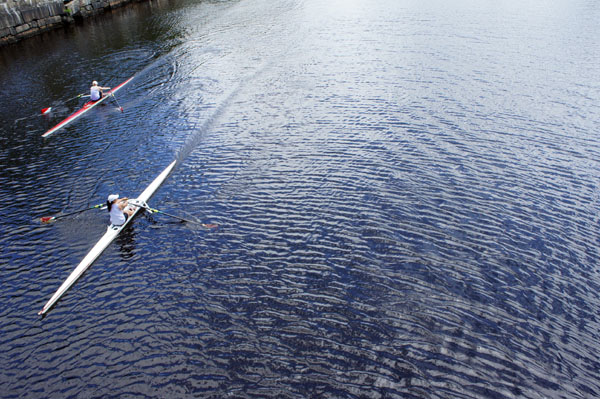 Quiet boats sliding on the River, that's "la classe à l'américaine" as I would say in French (American touch)
Along the path, there's another striking point: wild geese.They run freely. Now they also have baby geese (sorry for my lack of vocabulary, AND I'm working with kids). It's cute, but they can get dangerous (I mean, the 'parents').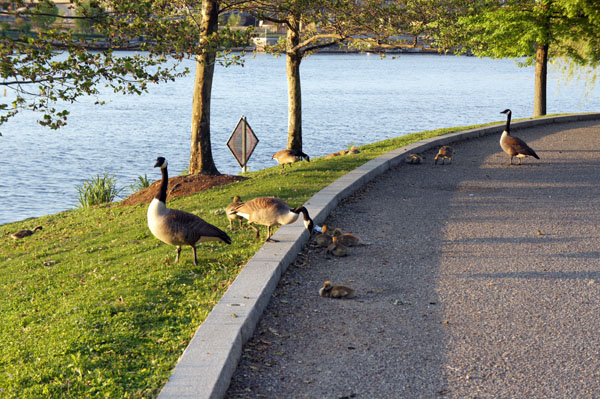 Riding along the river is the perfect excuse to go faster and to avoid the awful traffic in the city. Last Saturday, we had some errands to do, and decided to go by this way. Not the good choice. The Esplanade was full of people gathered for a Earth Fest.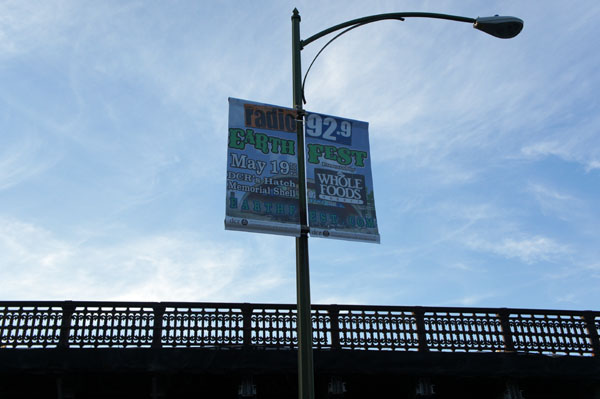 At first, we didn't really understand the point of this day, which basically seems to be a giant marketing celebration of Whole Foods, sponsor of the day. We saw rap concerts for kids (yes, it does exist), free food stands (we were offered pizza, we couldn't resist to stick a while there), and there was a lot of people with big yellow and green bags. So we wanted ours. We stupidly decided to wait in line. After 30 minutes under the sun, we were given the famous big bag, and we could go through each stand to have our free samples of new Whole Foods products. Finally for Earth Fest we only accumulated a bunch of samples and clutter we threw away a while after.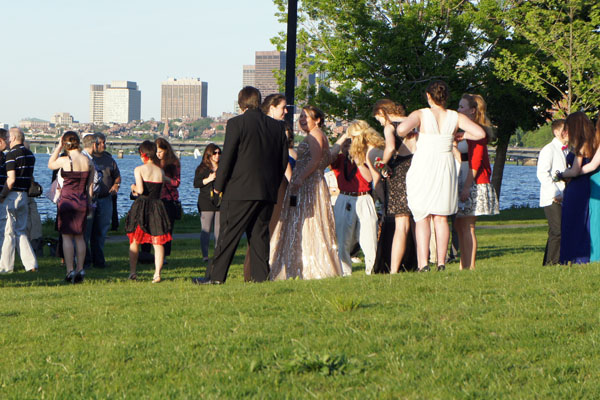 While walking, we can also meet different kind of people. Who are these young guys with cheap dresses? That's a prom photo call!!! Like in American movies, girls even have flowers on the wrist.
We were also told that the Esplanade was THE place to be during summer: tons of concerts, movies, etc. There's also the 4th of July celebration (Independance Day – which was only, in my mind, a terrible movie for many years). I've found a website dedicated to this event (I can't wait now). [we won't celebrate the 14th of July this year – our national celebration – NB: we don't call it Bastille Day]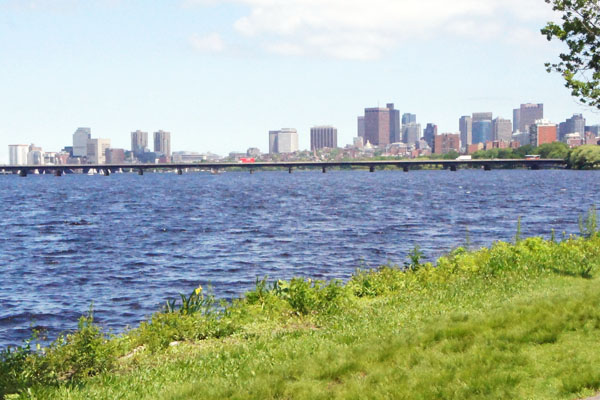 Urban Legend.  The other day, I was walking on a bridge (so… over the River). It was a very windy day. With my friend we've started to have the usual weather chitchat. She told me that 2011 winter was terrible in Boston, and as a proof, she added that the Charles River was frozen for almost 2 months in a row. "It's an estuary, so the water is salty, so it get frozen when temperature are really cold". I approved silently, and with a look of dismay. Since that moment, other people told me about this story, but the number of months changes, sometimes it's 3, or 4 or just 1 for optimistic ones.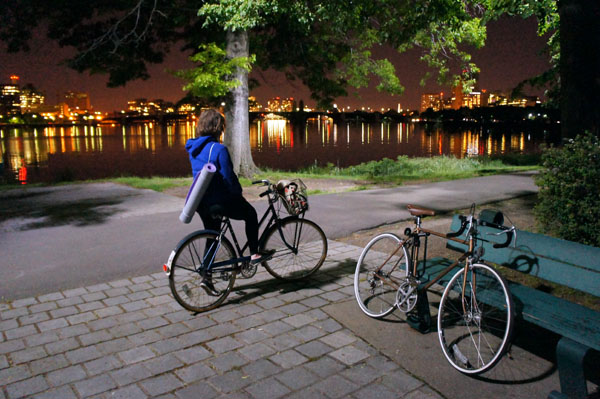 Things to do on the Esplanade…