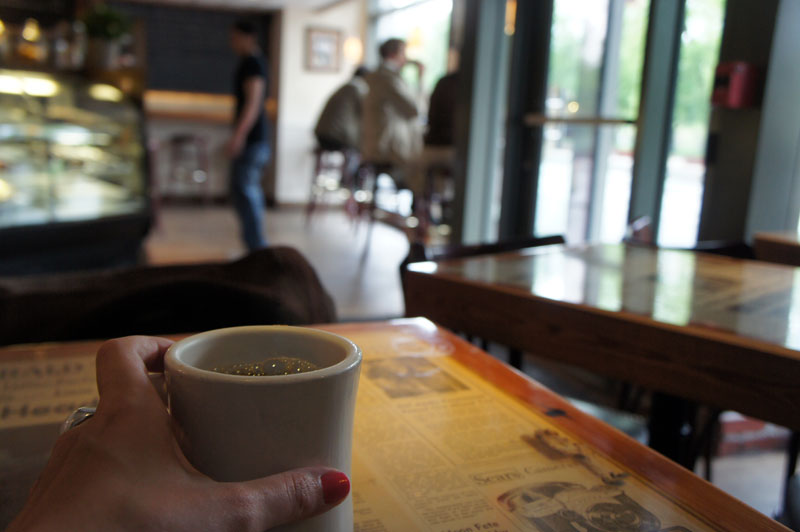 I've been in Boston for about 1 year – already. I've got a new routine: going to a coffee shop to have a hot beverage in a plastic cup, with a plastic top and a small hole – very handy to drink while walking. And in fact, I'm so used to this hole now that I'm starting to have some difficulties to drink in a regular cup. There is no such thing as coffee shop in France – of course, there are many Starbucks, but they are not local, nor cool, and always crowded. We've got the bar, when you drink wine. The coffee shop in the United States is the equivalent of our bar. Everyone has his favorite coffee shop where he likes to go and have a coffee to go before work, or where he goes to study or read for the whole afternoon.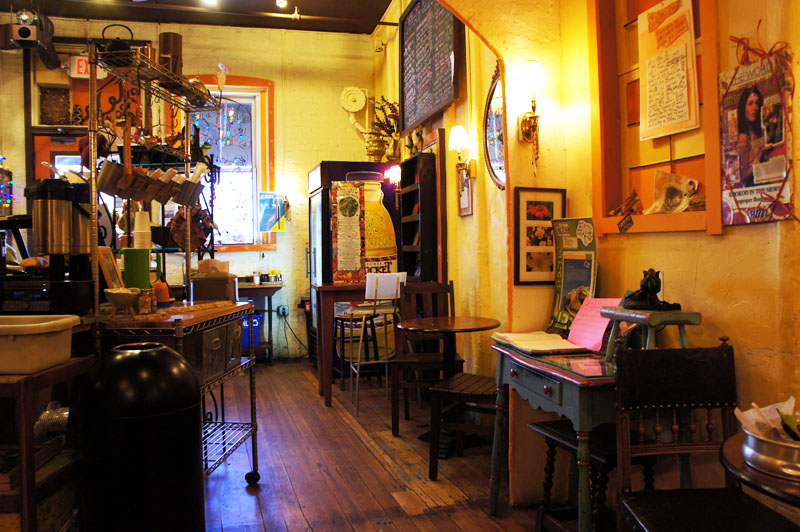 My debuts in coffee shops
Come in. Some coffee shops are very cool, the kind of cool where I don't want to go because I'm sure they won't let me in (I don't have any tattoos). But as soon as I came into this hipster temple, I found a cozy place to stay, like a refuge: when I arrived in Boston, I didn't have any friends, nor a job. My only activity was going to yoga in the morning, and to a coffee shop in the afternoon. I felt good, there was wifi, people that I considered as my friends (I saw them every day and they smiled at me), coffee and a cupcake once in a while. It was my American dolce vita.
How to speak "coffee shop" I studied English for almost 8 years – 12 if I include Elementary School, where I even got a English nickname, mine was Allison, but I didn't have a lot of practical knowledge. Ordering a coffee was epic. There are preliminary fastidious questions that I needed to understand first, then to answer to them and be understood. Be careful, they are shot in no more than 20 seconds:
What beverage?
Size?
Hot or iced?
For here or to go?
What kind of milk?(that's a hard one, there's so many types of milk…)
Do you have a loyalty card?
Do you want to give $1 for an association for goose protection (or whatever)?
What's your name?(be ready to spell your name, or give a fake American name, that's the right moment for me to say that I was Allison in Grade 5)

Finding the right place
Comfort. I like coffee shops where I can sit on a bar by the window and watch people on the streets. Another very cool thing is to get a big table and sit for the whole afternoon. Nobody will jump on me when I'm done with my coffee (in France, I couldn't say if my glass or cup was empty).
Wi-fi. The vast majority of Starbucks offers free wifi, and a lot of coffee shops as well. That was very convenient when I arrived in the United States and didn't have Internet at home for a while.
Good coffee Fair trade, organic coffee, etc.: most of the coffee shops sells good coffee! And if it's not as good as you like it, there's a whole table with tons of ingredients to add in the beverage (at first, this intimidated me…): milk, cinnamon, sugar, even flavors sometimes – nuts, vanilla. That's a really good service "a l'americaine". But if you don't like long American coffee (I bet you'll get used to it though), you can still have espresso: stronger than in a Roman bar!!
NB: Americans are the biggest consumers of coffee in the world but strangely, they also have very white teeth. I can see the difference when I'm on pictures with American friends: I look like the witch with yellowish teeth. Not good for my self-esteem.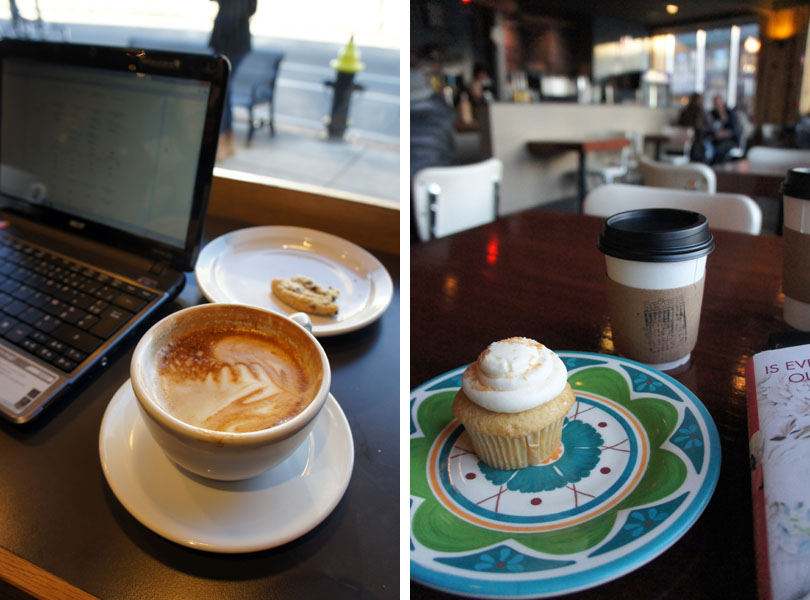 Becoming a regular customer
Now when I go on my favorite coffee shop, the barrista knows me and knows what I like, he fills out my loyalty cards checking 2 holes instead of one with a conspiratorial smile, and can spell my name without any mistakes (too bad that I told him that my name was Matilda). I feel like home.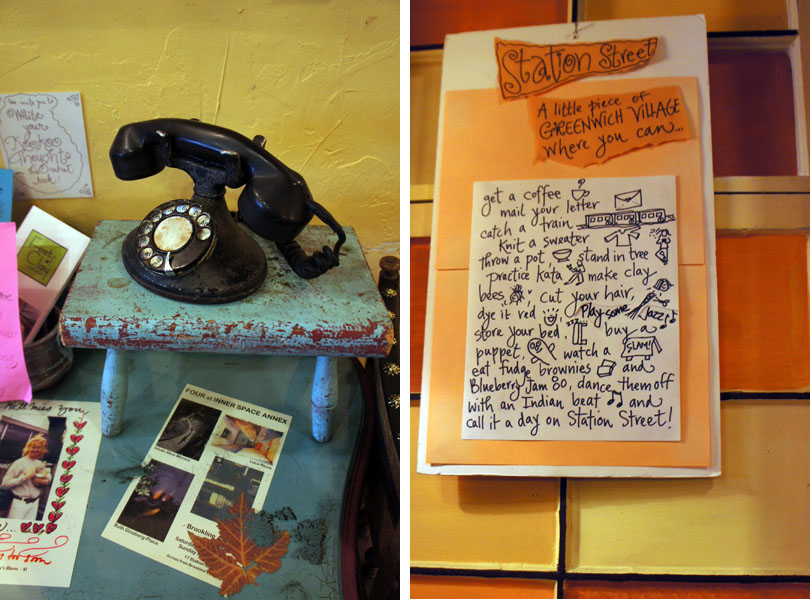 My favorite coffee shops in Boston
L'Aroma Café, 85 Newbury Street. Have a cranberry scone!
Espresso Royale Cafe, 736 Commonwealth Avenue. Cookies are delicious.
Thinking Cup, 165 Tremont St. Always crowded, but the coffee is good and the sandwiches are delicious.
Hi Rise, 1663 Mass. Av, Cambrigde. The coffee is very good, but drink and leave! The room can seem pretty cold.