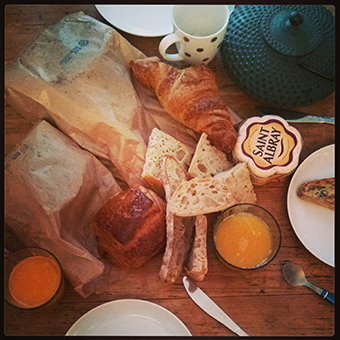 We landed in Paris, early on Monday morning – our flight went well, no problem and no sleep either – and I'm so exciiiiited. The first day was great – we were super tired though. Everything is so pretty here, even the tiny pedestrian crossing light which is green instead of white – this is the kind of details I've forgotten. We're staying at a friend's, and as he promised, he prepared a delicious breakfast for us. But first, we went out to buy some bread and croissants, "Let's go to my favorite bakery!" Unless that when we got there, it was closed. So what? It's Monday, most shops are closed on Mondays.
Good for us, they must be at least 5 bakeries in his neighborhood. We're safe.
Follows us on Facebook – Le Blog de Mathilde, Instagram (@mathildepit) or Twitter (@mathildepit) for updates in between blog posts.