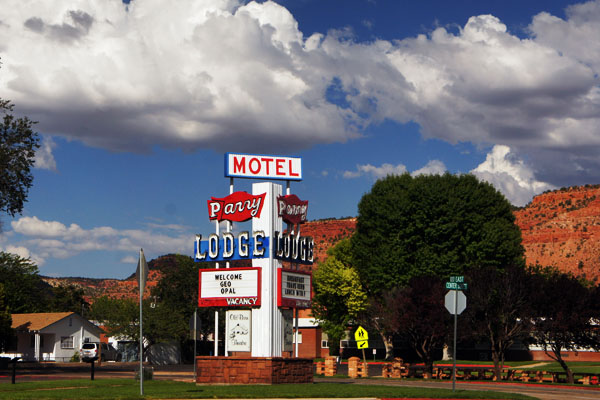 Sleeping was some kind of odd dream I've got about the States and specially the road trip we did on the West Coast last summer. Motels were for me a symbol of the United States, I associated them to oil smell and jeans. This part is the mythic part, because motels also made me think of: creepy and dirty places, old US TV shows where the bad guy hides, lame decoration with german shepperd tapestry, huge vintage signs, and of course serial killer. It's now time for me to tell the whole truth about motels: can we sleep there? This impartial review is based on 3 motels we went this summer: the bizarre Atomic Inn in Beatty, Nevada, the charming Parry Lodge in Kanab, Utah, and the awful Vagabond Inn in Bakersfield, California.
Motels are a serial killer shelter. 90% true and creepy. We know that since Psycho, serial killers live in creepy and abandoned motels. One night, we were running late, and no restaurant was open after 9 pm. We bought beers and guacamole and sat at a picnic table in the middle of the motel parking lot. We were drinking and laughing: the perfect cliche of young and careless travelers in the middle of nowhere. When I think of it now, I don't understand how we could to such a crazy thing: we were the perfect serial killer target. Except from these legitimate fears, motel owners looked local. Potential Norman Bates. 10% wong. We are still alive.
Motel are cheap, not soundproofed, and dirty. 100% not soundproofed. I've already noticed that's it's a general characteristic in the US, e.i. the perfect example being the restrooms : that's the ultimate proof that soundproofing (and privacy) isn't an issue here. 40% dirty. Bakersfield rooms seem fine when we first saw them at night – well, it's true that we were pretty drunk because of the nice waitress we met in basque restaurant (in California, right). Unfortunately, Léo and Pierre had to face cockroaches. And when we woke up the day after, we realized that this motel wasn't that great. And the so-called breakfast was a pure farce. The other motels were very clean, so no general panick. 50% cheap. A room for 2 costed us between 60 and 100 $ a night. It's not so cheap, but not expensive neither.
Motel are lame. 100% lame –  and cool though. In front of each respectable motel you'll find a flag and a big sign. I love when it's on at night. Sometimes motels have "theme", for instance at the Atomic Inn in Beatty the motel was dedicated to nuclear trials. At the Parry Lodge in Kanab, cinema and westerns were the main themes. Kanab was the "little Hollywood" in the past. Western were shot in Southern Utah, close to this small town. John Wayne, Gregory Peck and Frank Sinatra slept there. Fancy! For the Bakersfield motel, it's was completely lame and not interesting: brown carpet, big wooden sideboard (to put all the dishes we took on vacation?) and lame posters. And of course, 2 bibles on a drawer (Mormon and "regular").
Motels are car heaven. 100% OBVIOUS. The first motal, Motor hotel, was created in California in 1925 to let the customers park their car right in front of their door room. That's what I liked about motel: to book a room easiily (there's a  "Vacancy" written on the sign), park in front of the small cabin and spend the night before getting back on the road. Fun, fun, fun! Okay, just a detail, forget about the careless adventure, I booked every night before leaving – except Bakersfield… which wasn't a success.
We've already seen tons of motels in Maine last April, shot in the Motel Mania video I did this time..