15 days, 15 nights of road trip in the South West, that was our program for the Summer of 2017. We came back in this region that we've already visited a couple of times, because it's hot, and because it's huge. We still have so much to see there even if we've been to the biggest parks – Bryce, Grand Canyon, Canyonlands, Arches, Petrified Forest, etc. Our initial ideas was to travel to Alaska, and to Minnesota. But we made our decision mid-July and bought tickets to Las Vegas. This is not a city that I cherish a lot, but the airport is convenient, and the flights are cheap. Of course, I'm saddened after the terrible mass-shooting that happened there at the beginning of October.
❦
☞ This article will take you about 15 to 20 minutes to read.
This is a recap of the 15 days of road trip. There will be others articles more detailed about each destination visited, with more stories, more pictures and more practical informations.
This trip wasn't sponsored, all the places visited are truly our choices.
I called it an off road trip because we didn't want to take the time to go back to the most famous places of Utah. We tried to cover less known places.
If you're inspired to visit those places thanks to this article, mention it on social media or/and on your blog, that will be much appreciated!
Let's get started!
Ah Vegas, our first night is on the Strip, the most touristic place of the city, where hotels and casinos, drunks and bachelorette parties are everywhere. The heat is brutal so we stay by the pool. We have to plan our trip, even though we have an idea of the biggest stops we want to do, there is no camping nor hotel reservations made so far. We like to travel flexible, so to say, even though we also want to hike, drive along scenic roads and sleep in nice places. There is a lot to combine!
At the end of the day, we book a table at a French restaurant, l'Atelier de Joel Robuchon at 7pm. I'm surprised we are able to be accommodated in such a short notice. I've never been to this famous Chef restaurant in Paris, and I'm glad to try it here. Dinner is exceptional. Afterwards, we run to the other side of the Strip to go see the show Mystère of the Cirque du Soleil. It is the first time I'm seeing one of this circus show, and there's so much to see! The aesthetic is very bizarre and has a 90's vibe, I love it.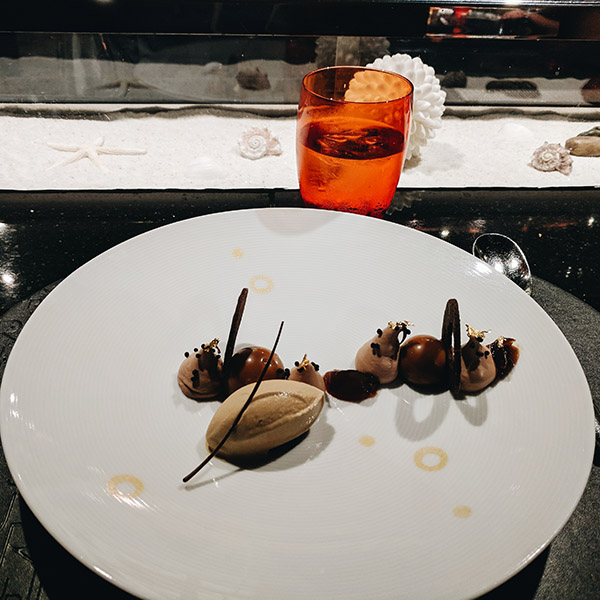 Sweet dessert to end up a fantastic dinner at l'Atelier Robuchon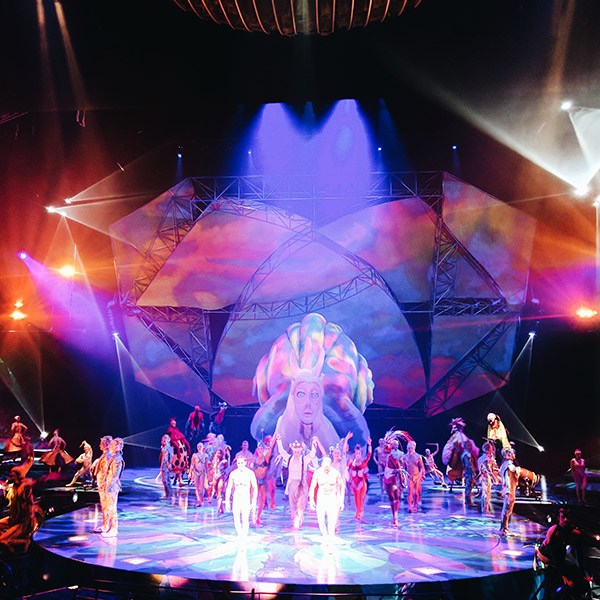 Yeah, we cheer the "strong men" of the show Mystère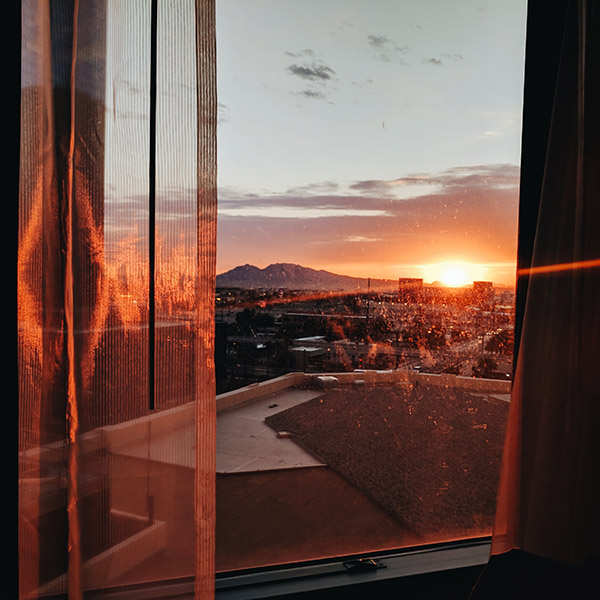 There is a 3-hour jet lag with the East Coast, so it's easy to wake up early and see the sunrise
Wednesday,
We leave town
A huge Ford Expedition is waiting for us at the rental car office, we take a 4-wheel drive option so we can go on any dirt roads. This car is way to big for the 2 of us, but we quickly get used to being almost the biggest car on the road.
Before leaving we have a few errands to make: first we stop at the outdoors store REI  to buy 2 gas canisters and a few dry-frozen food bags, and then we go to Trader Joe's. We like to be on our own on the road, make sandwiches and salads, and not having to stop in restaurants. After Joel Robuchon's, we are ready to eat in a simpler way. I'm glad to see another side of Las Vegas, where people live and shop. On the parking lot while organizing the car, I'm burning under the sun: I wonder how people do all year long in this desert environment.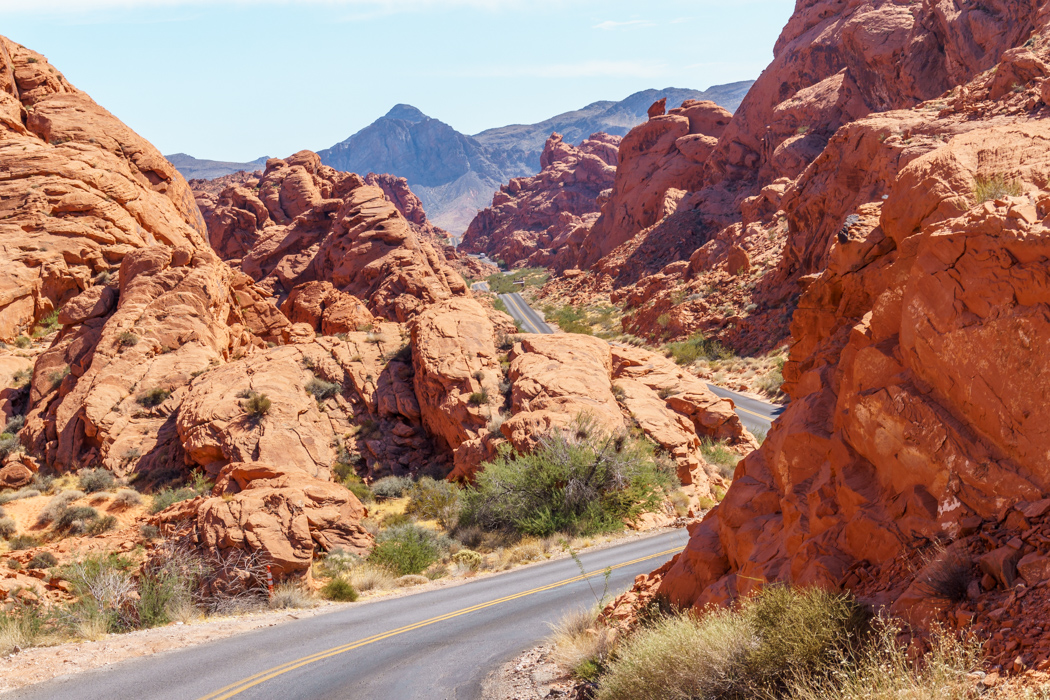 What a scenic road!
Driving through the Valley of Fire, Nevada
We leave Vegas around 1pm, and our first stop is the Valley of Fire. As soon as we leave the city, we are in the middle of the desert and surrounded by mountains. Everything looks very dry. An hour after, we pay the ranger at the entrance desk, he gives us a map and a piece of advice: "Don't take a walk, it's too hot". We stop at every view point, and decide to follow his advice: we won't walk because of the heat. The scenic road is incredible, and the red rocks look like wave or chaotic piles of stones. We leave pretty quickly since we have a 4-hour drive to get to our AirBnb, up North in the mountains, near the Great Basin National Park.
❣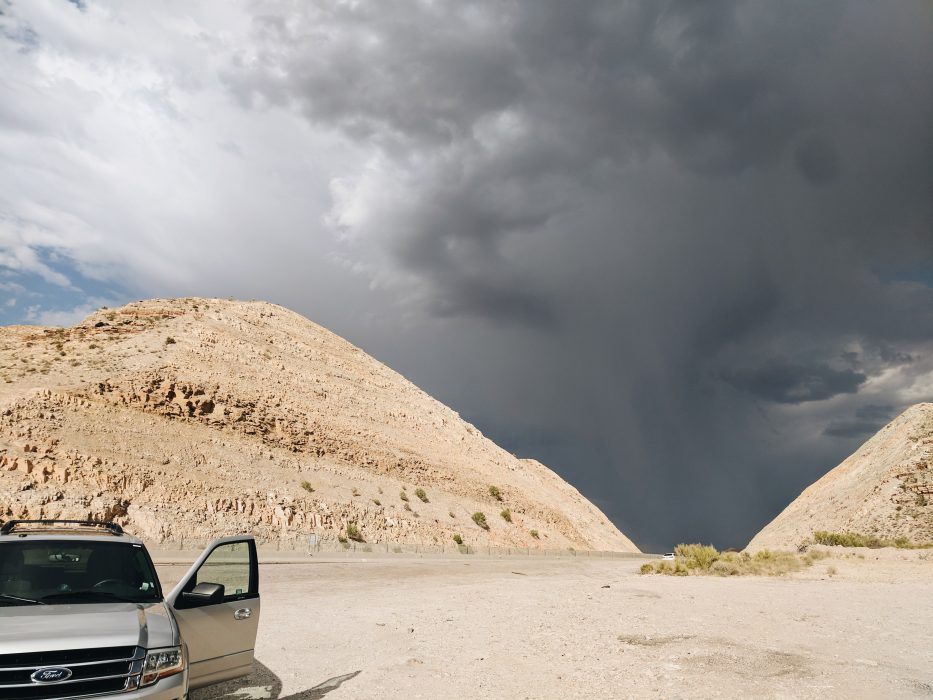 Stopping by the side of the road to take pictures, while the sky is dark!
Along the Nevada roads
We take a road in Utah going through canyons and mountains. The sky is dark and threatening, it's monsoon season. The drive is long. The GPS told us there is no turn for the next 50 miles. We finally make it to Nevada, we cross one valley, and then another one. We see in the distance one ranch only, in places that look like the mere definition of remoteness. We arrive around 8pm in Baker, a small town. Patricia, our Airbnb hostess welcome us, and she's worried that we would be able to eat "everything is close here at that time". No worries, we have everything we need. The night is dark, we are exhausted and go to bed early.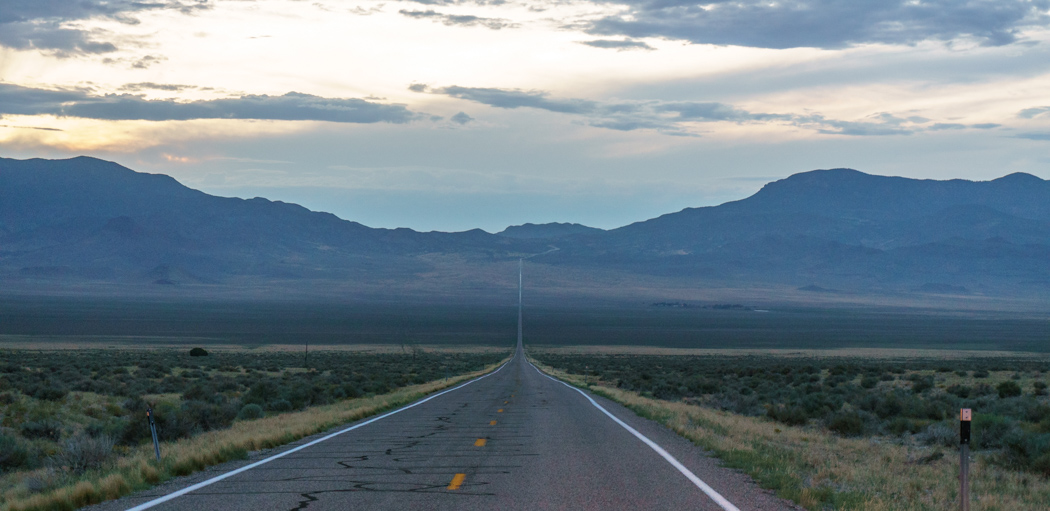 That's a straight road
Thursday,
Hello Great Basin National Park
We can see the mountains from our bed, I like that! We prepare breakfast, eat on the deck facing the natural decor. It's silent, but slowly we start to hear the sound of the wind in the tree – yes, there's just one tree, the rest is bushes. And we hear also some cows in the distance. Our trailer is close to the park entrance, we stop to talk to a ranger and ask about which hikes to do. She tells us to be ready for some thunderstorms in the afternoon. And here we go: we start driving on the only national park of Nevada, Great Basin. It's a cold altitude desert, where we find spectacular mountain scenery, among the oldest trees in the world, called the bristlecones pines, and caves. We decide not to take tickets to visit them, and to spend the day walking in the park. We are, right from the beginning, in awe.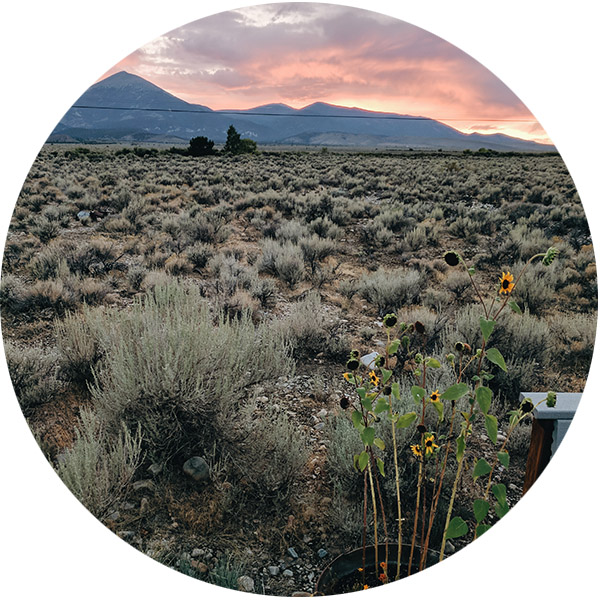 The view from our AirBnb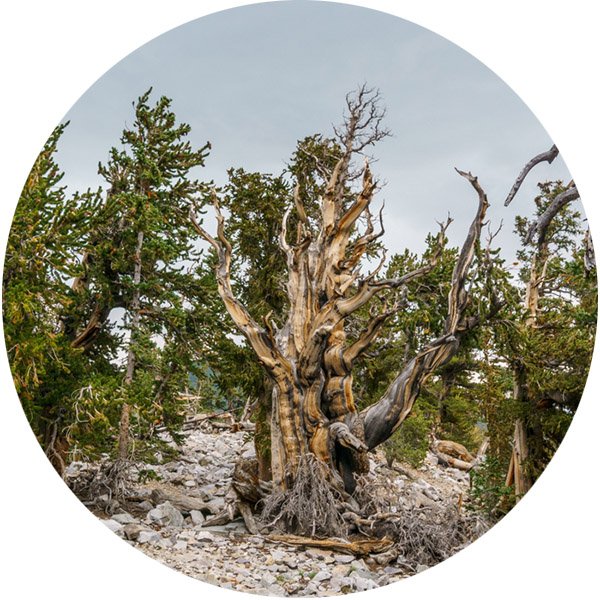 The oldest trees in the world, more than a thousand year old!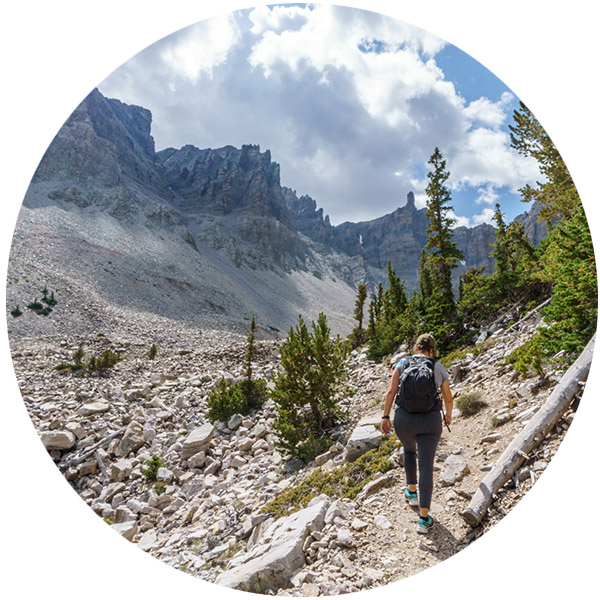 First walk of the trip! We even saw glacier, which was a surprise in Nevada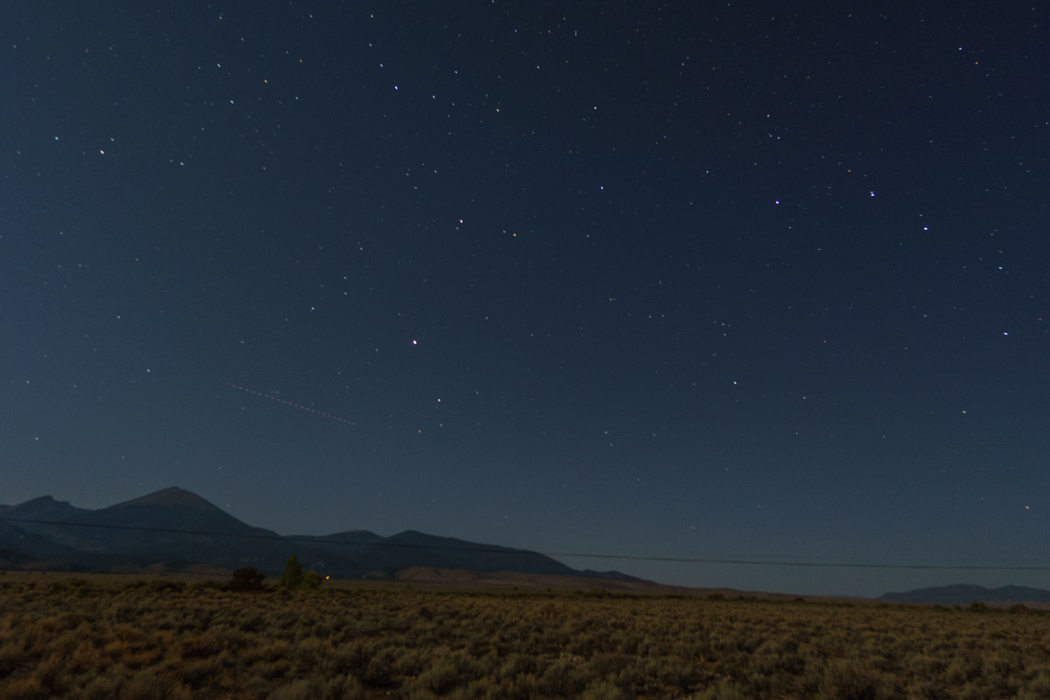 The night gets so dark that we can see many stars and the Milky Way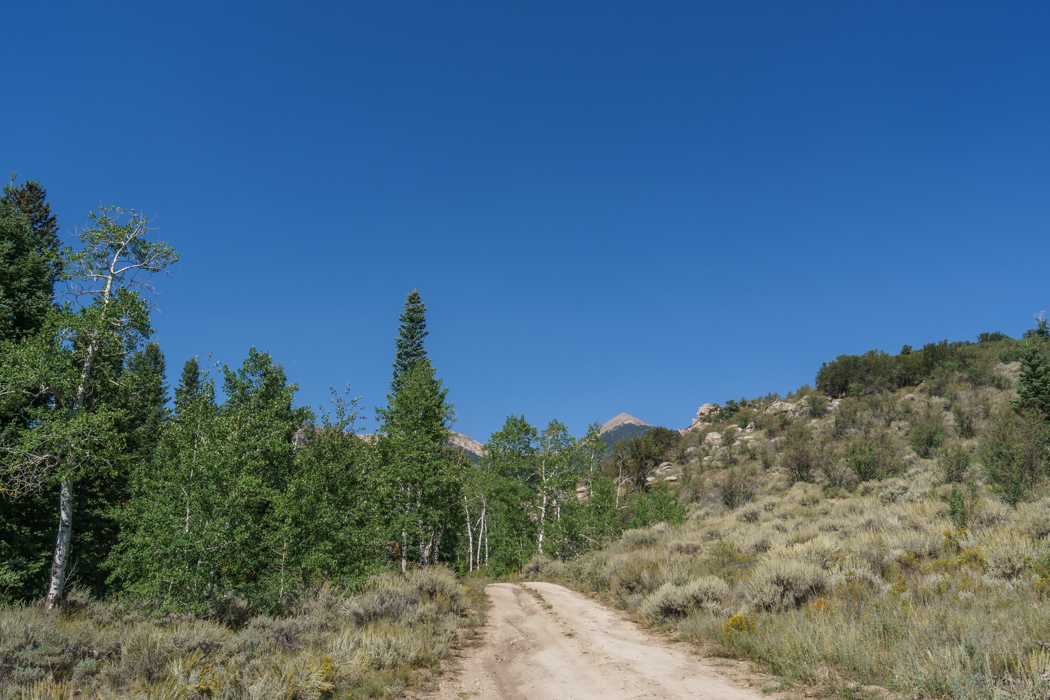 Snake Creek Road
Friday,
scenic road of Nevada
We don't want to leave Great Basin: the weather is cool, the mountains are pretty, the park is huge and we could stay longer… but we are on a road trip, and we want to be on the go. We "just" have 15 days after all! We road trip this morning on the South-East part of the park, the Snake Creek. It's gorgeous, and we could have camped there (next time!)
In the middle of the day, we start driving up the mountains. Manu is glad to use the 4-wheel drive option on the narrow and steep road. I have to get out of the car when it starts to slide. I'm scared! We pic-nic near an abandoned mine, facing the valley.
At the top of the parking lot, we have to go down to get into the park
A stop at Cathedral Gorge
Around 4.30pm, we stop along the road in the State Park of Nevada. This smaller parks are in general really good surprises, even though they don't have the coveted title of national park.  We walk in the heart of the "Cathedral Gorge": the stone peaks seem ready to collapse or to dust off in the wind easily. I may have said that before, but we are burning, it's hot in here and I already miss the mountains of Great Basin. We stay in this park for 2 hours.
❦
We keep driving, and we arrive in Utah, we have to change time: bye bye Pacific Time, hello Mountain Time. Tonight, we still don't camp, and sleep in a weird Airbnb with a cowboy theme room.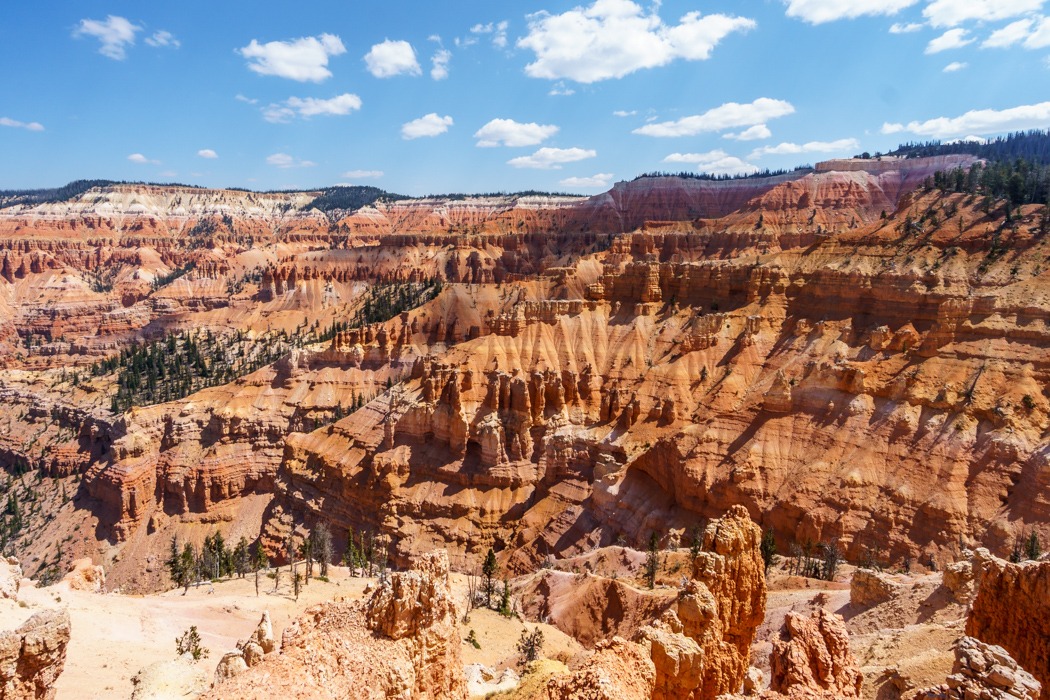 Cedar Breaks Monument
Saturday
Hello Utah!
At the gas station this morning, I have to buy chap stick: my lips are so dry and I feel in a permanent state of dehydration, despite drinking very often. We also carry gallons of water in the car. This morning, we go see a National Monument, right next to the famous Bryce Canyon: Cedar Breaks Monument. We get there at noon, which is the worst time to walk, but we still go for it and walk along the Ramparts Trail. It's a 4-mile trail that starts easily, and soon becomes hard. It's steep, but the views on the amphitheater are amazing. Some marmots are catching some sun on the ridge! After the hike, we picnic and as soon as the clouds hide the sun, we get cold! Let's not forget we are at a 10,000 feet elevation.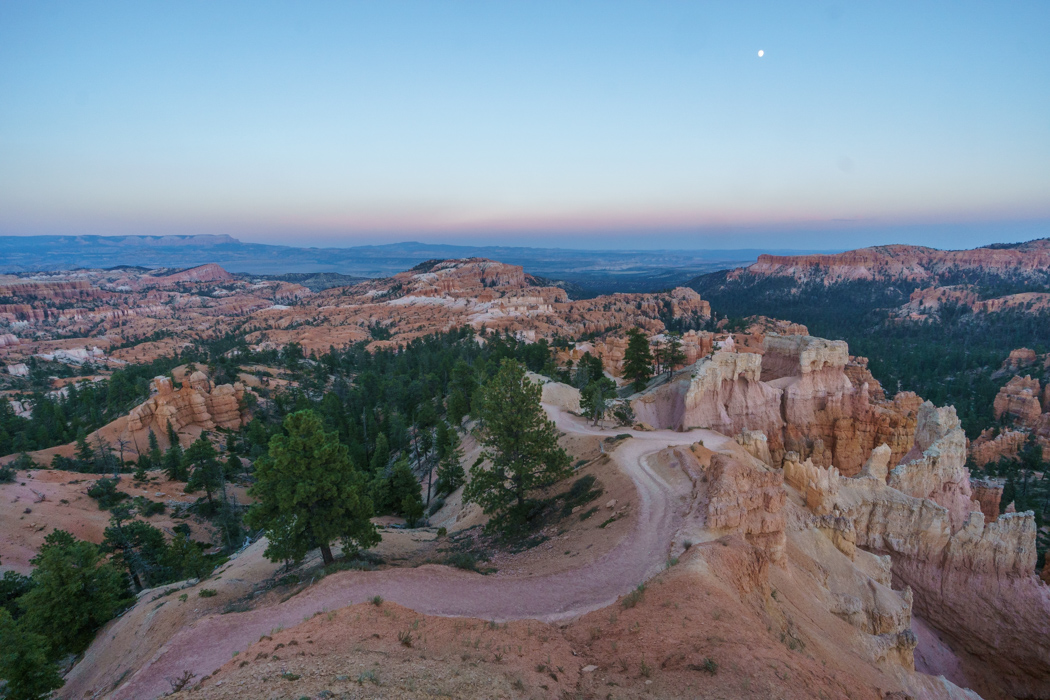 Moonrise over Bryce Canyon
Sunset over Bryce Canyon
Everything is just wow in this part of Utah: the scenic roads, the warm colors of the rocks, the stream next to the road. I have this strange feeling of deja-vu, probably because I've been there before, but my memories are not clear. We notice a bike lane by the road: could it be an idea for a next trip here?
Tonight is finally our first camping night, near Bryce Canyon. I was wondering if we could find a spot in such a touristic area, especially on a Saturday night of a 3-day weekend (Monday is Labor day), but we find a nice spot in an almost empty campground. The scenery is amazing, the commodities are zero. That's fine. At night, we drive to Bryce canyon to see the sunset, but it's crowded. And it's always hard, I found, to experience the magic of the place is such conditions.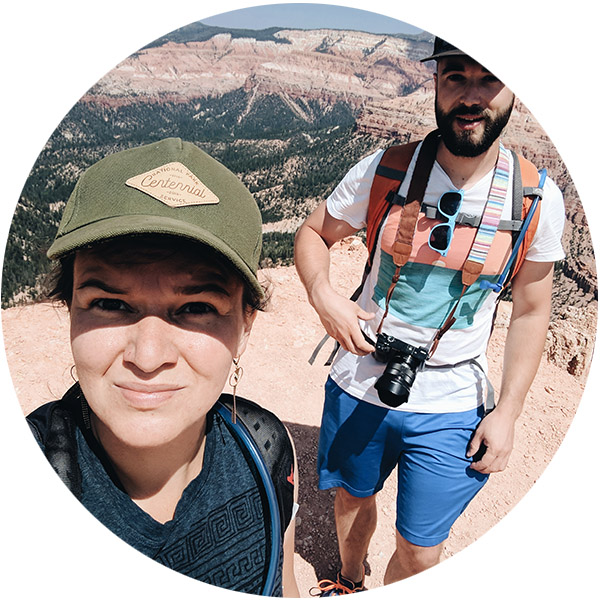 Selfie at the end of the trail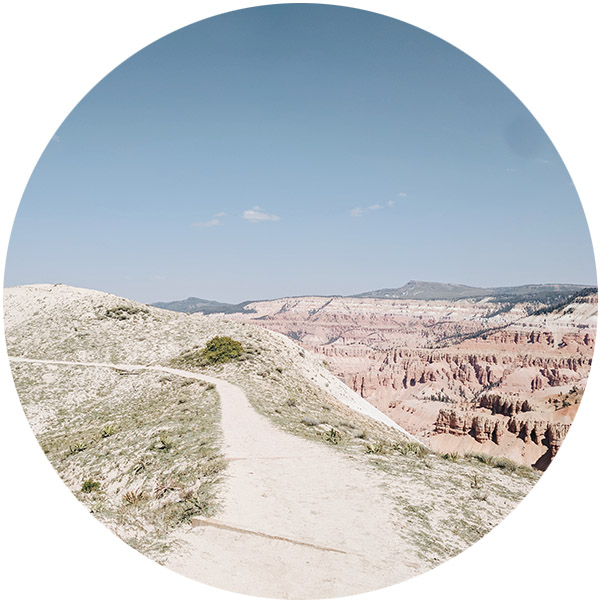 Walking on the edge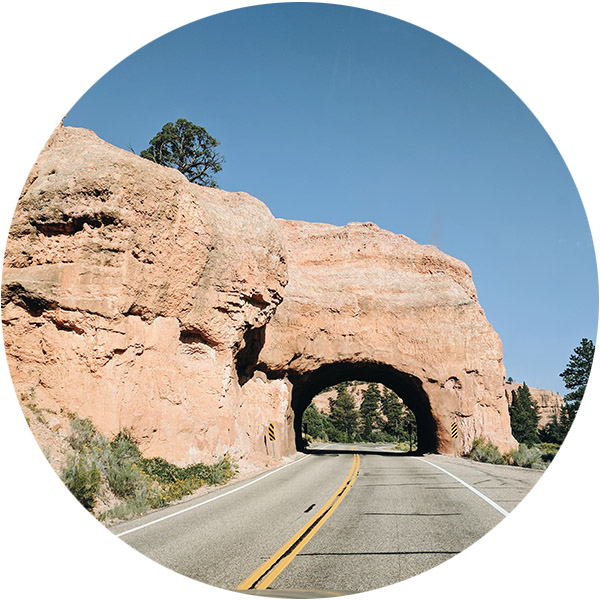 Rocks on the road? let's dig a tunnel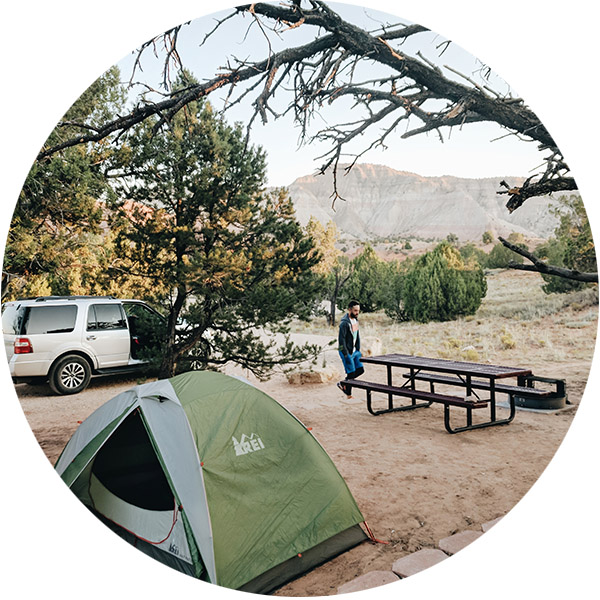 Nice camping spot in Kodachrome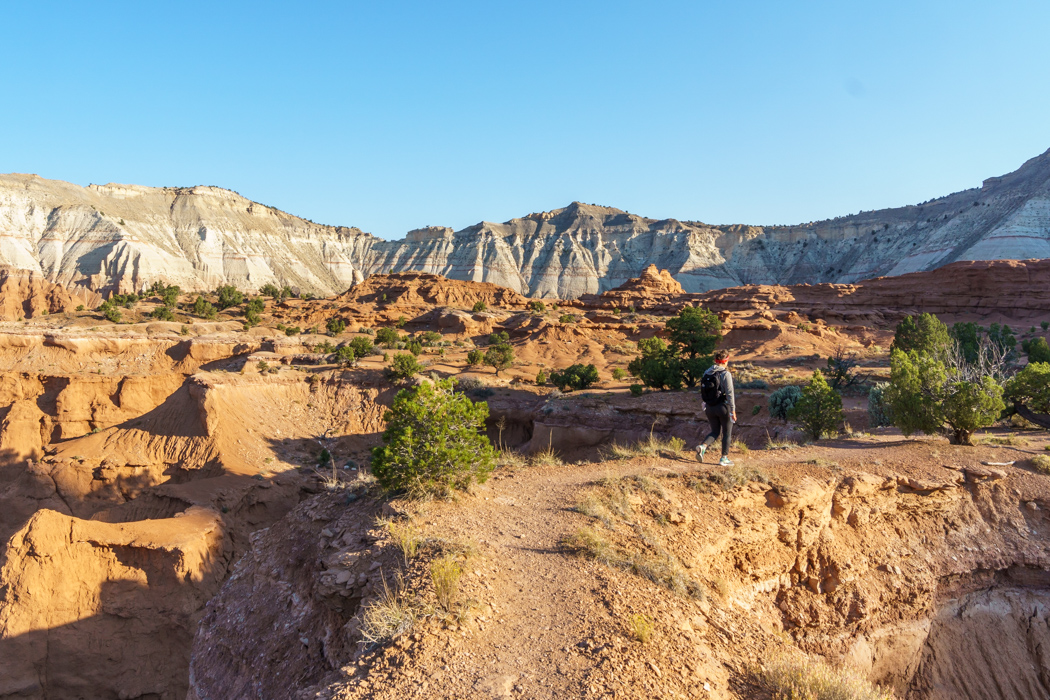 Sunday morning walk
There's nothing like a night outside to feel connected with nature. Even though it's the door of the neighbor's car that wakes me up this morning. It's 7am anyway. I don't want to walk by 90F so up we go to the Angel's Palace Trail, an easy 2 mile trail in the middle of everything that the park has to offer. I like this kind of Sundays! Kodachrome got its name from the brand Kodak, because of all the colors of the stone – from the whites, to the reds, and oranges even. Back to our camp, we have breakfast, Manu plans what's next, I write in my travel log book.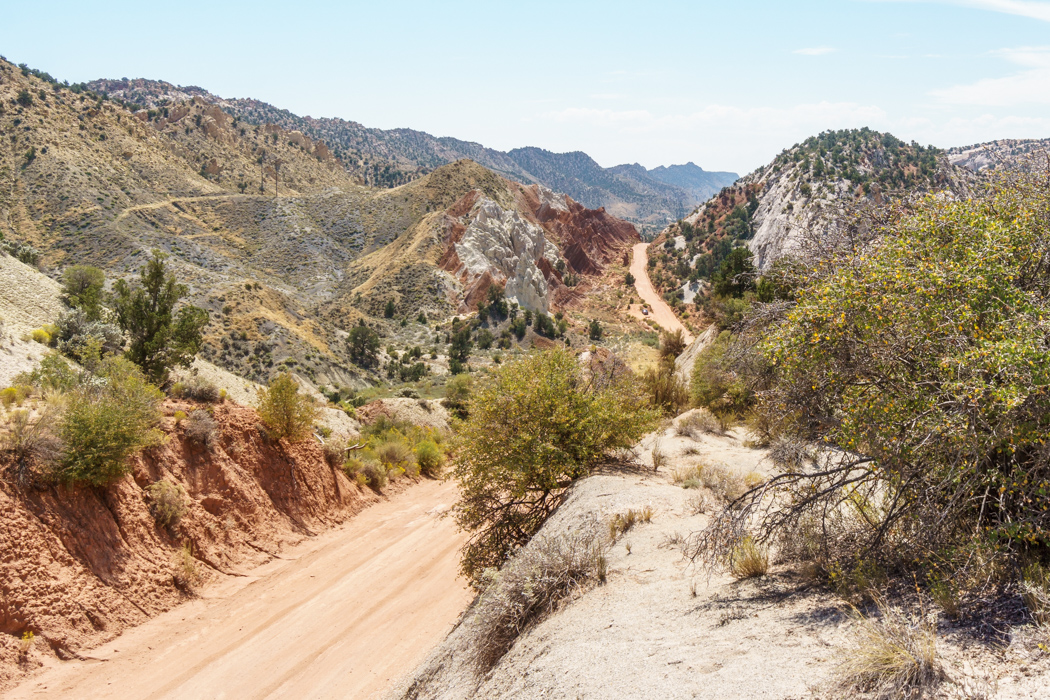 Multi-colored and multi-layered road
On the road of Escalante
The rest of the day is dedicated to driving along a scenic road, in the Escalante Grand Staircase Park, where we've been before – we drove a few years ago on the Burr Trail. This park is one of the reason why we wanted to go back in this region: to spend more time in the less populated, less charted places. It's rare to feel alone in Southern Utah, it's almost always the case in Escalante.
Cottonwood Canyon Road is a fantastic drive, even more that I expected: the scenery changed often, we cross mountains, canyons, layers of rocks, deserts, oasis. It's dusty, it's hot, it's unique. We stop at some point to see a giant triple arch. In a word, it's a geology fest around here.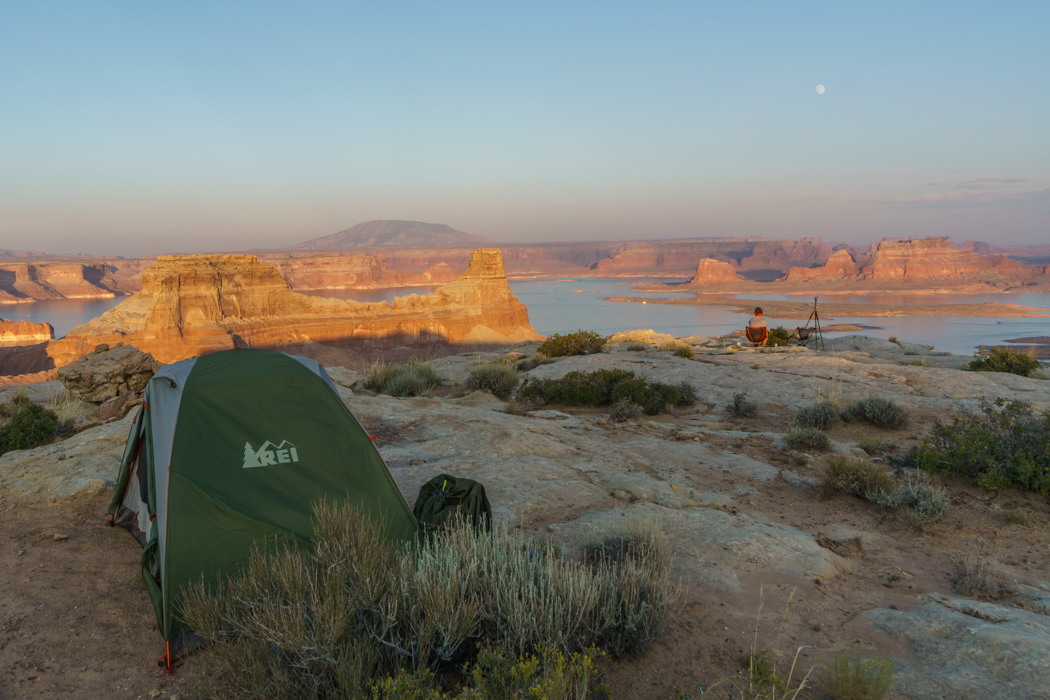 0$ camp site with a 1 million $ view
Crazy sunset over Lake Powell
Manu knew about this exceptional point of view above Lake Powell beforehand, but it was hard to get some valid information whether the road was doable or not. We had to go to 2 different visitor centers to get some info, and we were finally given a sheet with an hand-drawn map on how to reach Alstrom Point. Manu felt enough at ease to drive on a rocky dirt road, and the last 2 miles were hard and slow, indeed. But it was worth it: the view over the lake was breathtaking. We set camp, had dinner here, and watched quietly the sunset. So quietly that a rattlesnake visited us. We had to hide in the tent – there was no way we could walk back to the car at night. Sweet dreams!
Monday Morning,
Road tripping, again
It's hard to leave such a wonderful place, even if we slept not so well: we were thinking on ways to deal with the snake, and the moon was high and bright up in the sky. But, who cares, waking up here was one of the best experience of the whole trip.
This Monday is mostly a road trip day, we wonder what to do next, we want to stay in the Escalante area, so as soon as I have some service on my phone, I book a hotel in Boulder, Utah.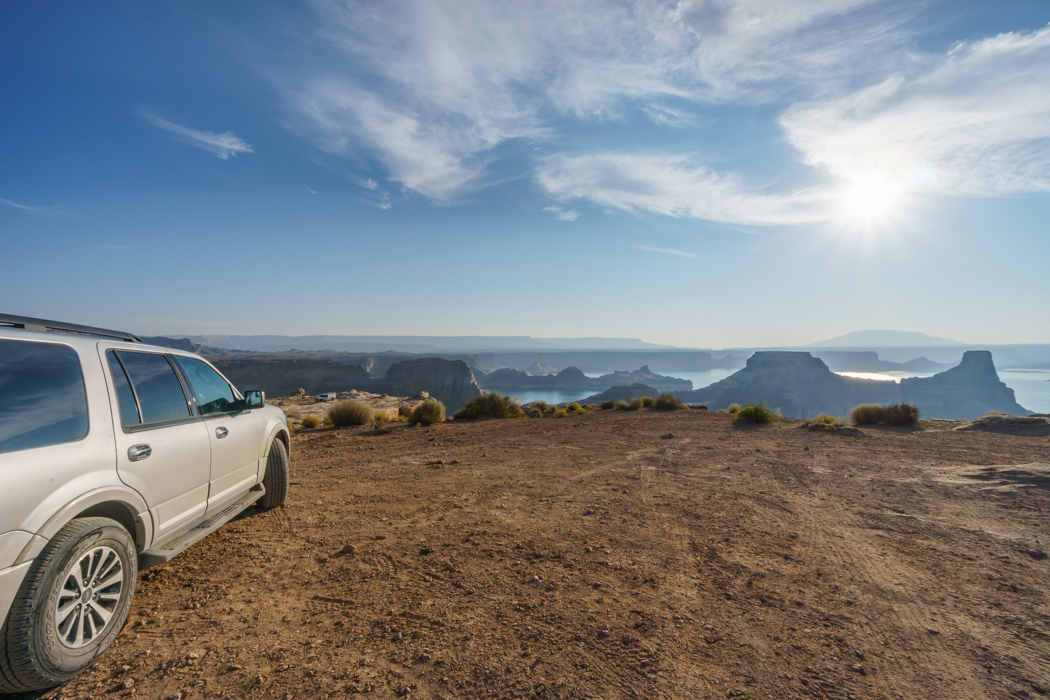 Driving by Lake Powell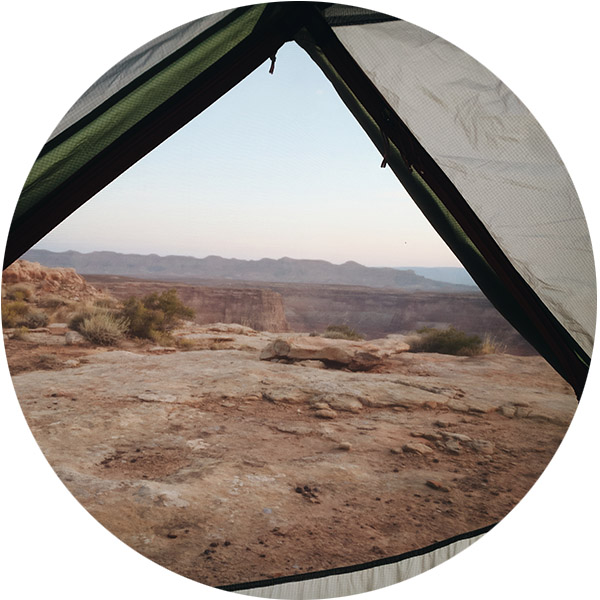 Waking up in the tent with no snake in sight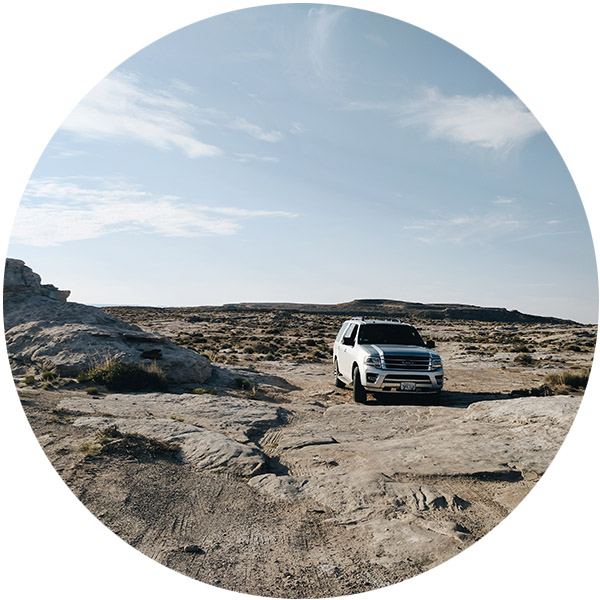 It doesn't look that hard but we took it slowly and carefully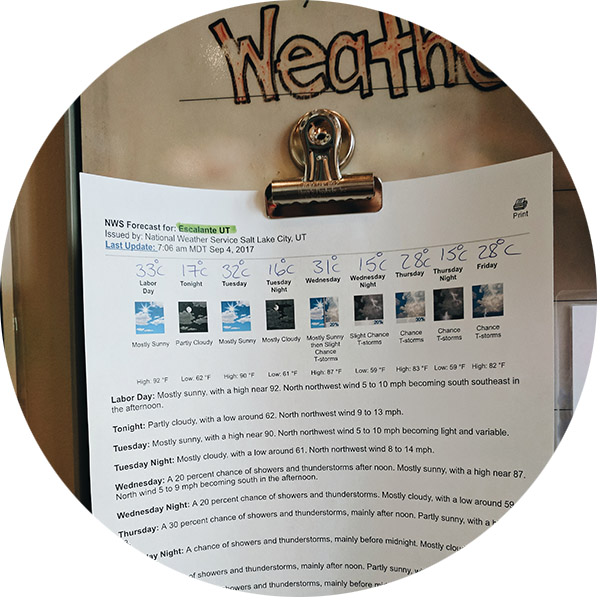 We spent some time in a visitor center to decide where to go and what to do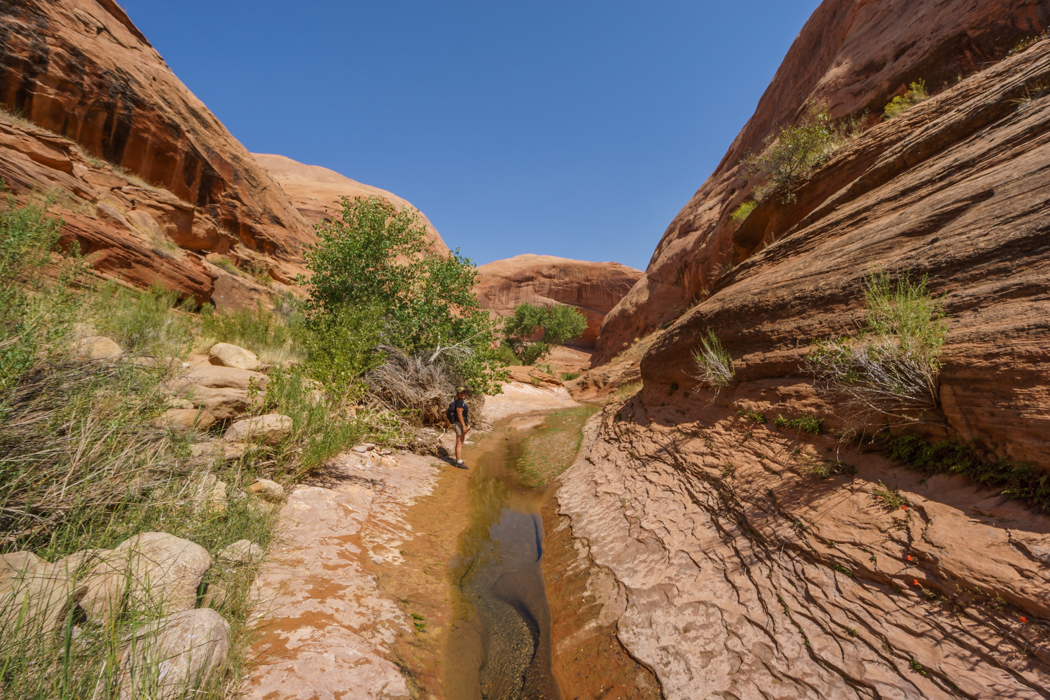 In the gulch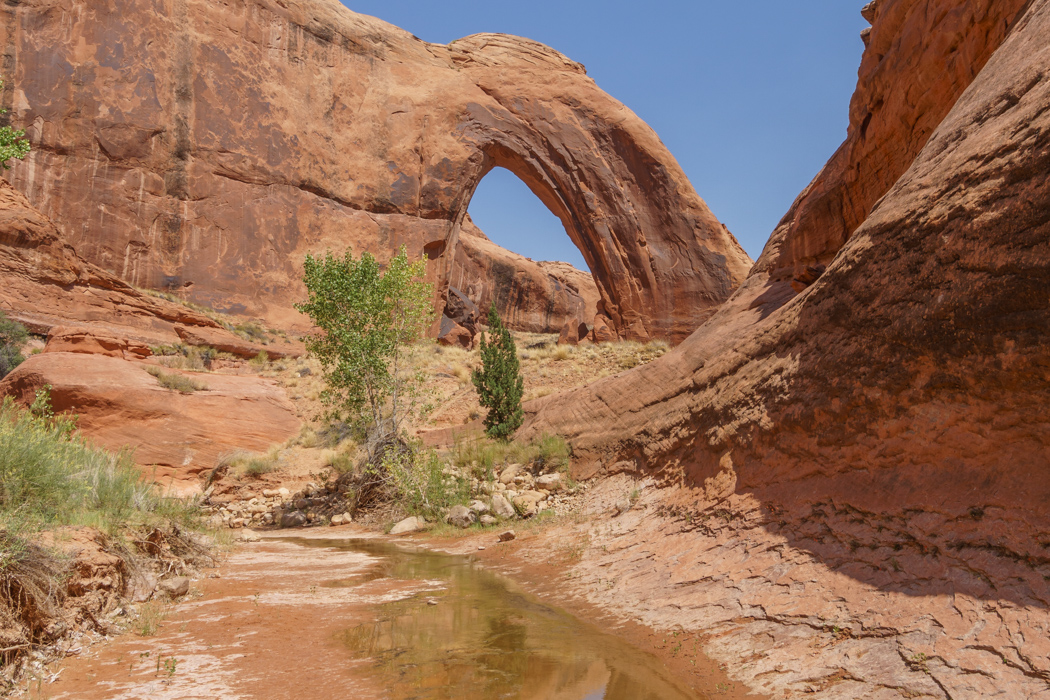 And suddenly, there's an arch
Tuesday,
alone in Escalante Grand Staircase
This day was a mix of scenic road and hikes, nice ones but hard ones, in Escalante Grand Staircase. We drove in the morning on some cool high elevation forest, and later in the day in some dry hot desert canyons.
Our hike today is down the Willow Gulch: we parked the car on the edge of a canyon, and went down the trail which became narrower as we went further down. Escalante Grand Staircase isn't a national park, and the hikes are not well marked: we had to be ready before going there. No sign, no arrow pointing towards the next turn. We had to walk in water, in the middle of mini-waterfalls, and we even saw a huge arch. It was at the same time both amazing and scary, since we were still shaken by the "snake experience" on Sunday. Water also started to run low, even though we were each carrying a gallon of water. Back to the car after a 4-mile hike, I poured half a gallon of water of my head, I may have risked to be stroke by cold-water but I enjoyed the feeling.
We wanted to do more, but the sky was really dark so we went back to our hotel/ranch and spent the rest of the afternoon reading photography books about Utah. At night, at the restaurant, it was Taco Tuesday with fresh vegetables from the garden!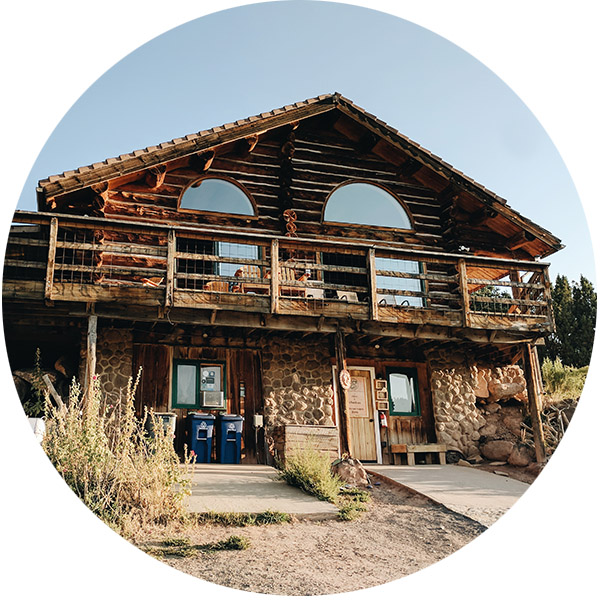 Our ranch in Boulder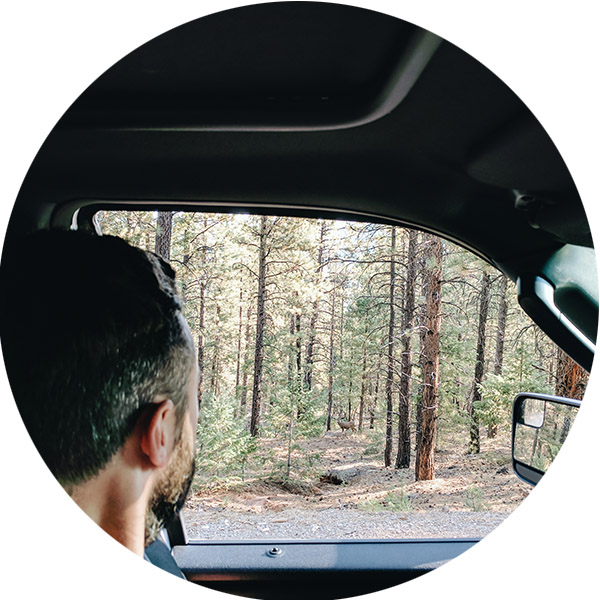 Morning drive in high elevation, we saw a herd of deers!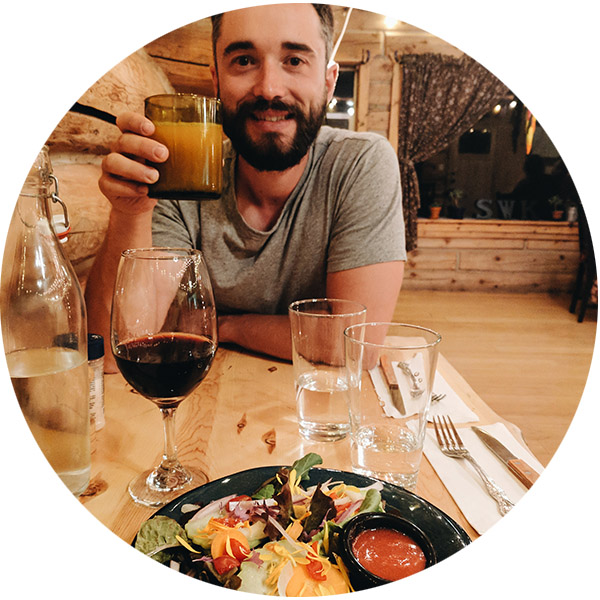 Taco Tuesday and fresh salad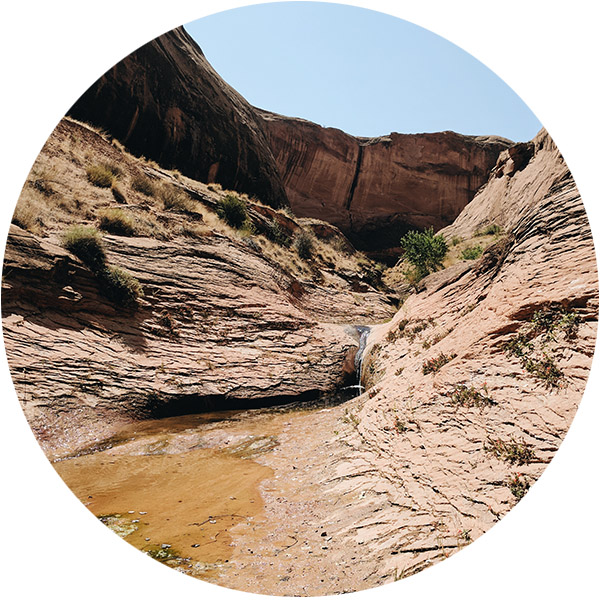 It was not always an easy trail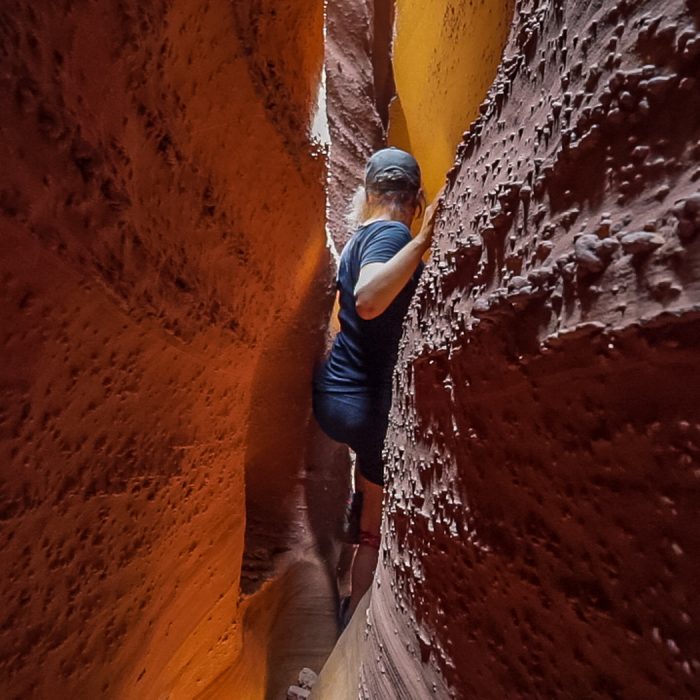 Spooky canyon
Wednesday,
canyons, again, in Escalante
We want more! We love the area and the day before, we have not been able to do two hikes we really want to do, so the day after we come back for more slot canyons with a combo: Peek-a-boo + Spooky canyons!
❣
Theirs names are spot-on, and that's pretty much how we felt when we were stuck in the middle of them. Peek-a-boo felt like an hide-and-seek canyon and the second one was spooky to the point I wasn't 100% sure I would be able to finish it. The first one wasn't easy to access: the trailhead was a pile of rocks we had to climb. We were following 2 couples, the first one climbed it so easily we thought it would be also easy for us, and the second couple… well, the girl was almost crying. We did it, we climbed the first pile. But it wasn't over! After going through this barricade, we had to climb and snaked in between some more rocks. My heart was racing and I scratched my knees. Though hard, it was a fun challenge. The second canyon, Spooky, was very narrow, to the point that for the most part I couldn't carry my backpack on my back. The sides of the canyons were covered with small stones, which made the walk… scratchy. We felt like in an amusement park, but for grown-ups, and with a permanent risk of breaking a leg or spraining an ankle. Awesome!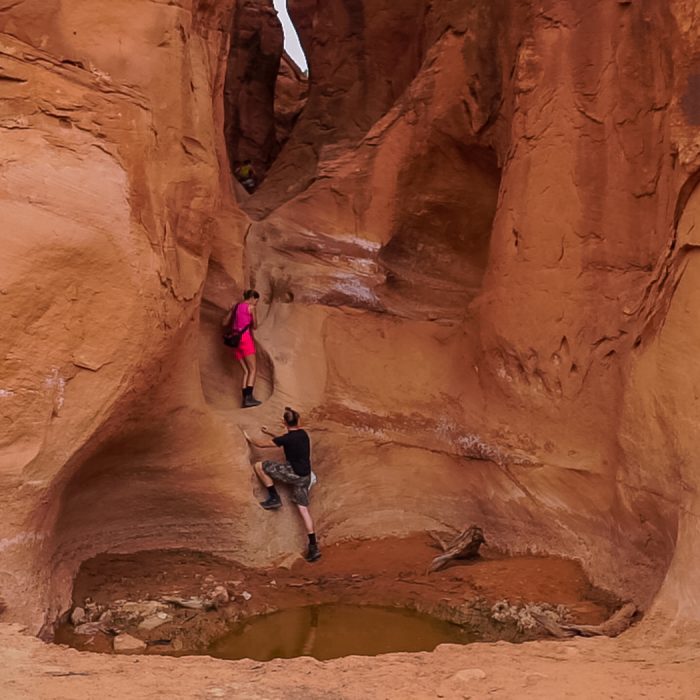 That's the trailhead for Peek-a-boo canyon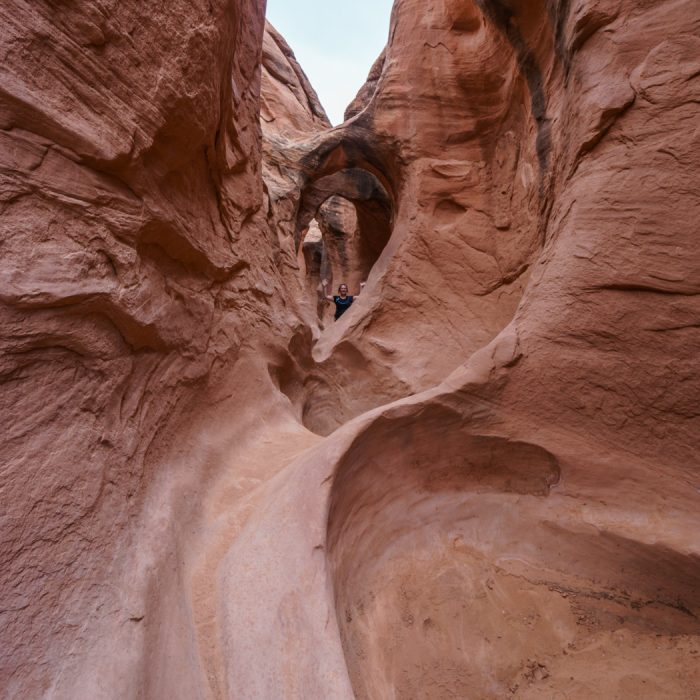 The name Peek-a-boo is a good one: you see me, and then you don't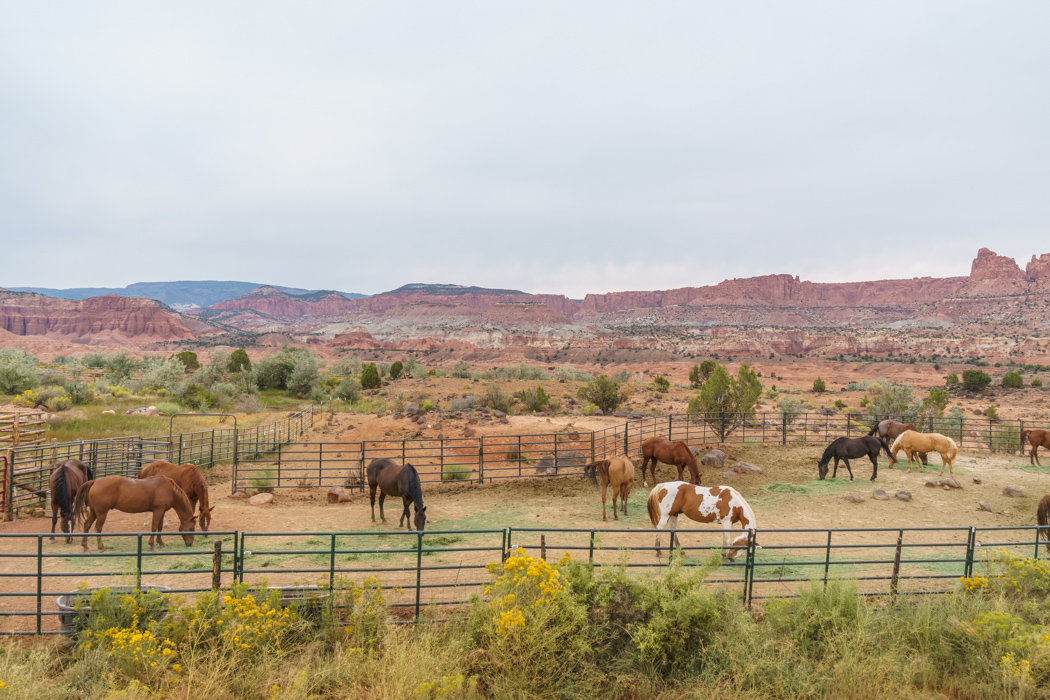 Horses by the road
End of the day in Capitol Reef national park
That was a fun hike, and after that, I was tired, the good side of being tired. We had a picnic in the middle of another crazy geological area, and then we were back on the road, moving West. Before leaving this beloved area of Escalante Grand Staircase, we stopped in a nice coffee shop called Kiva, that looks just placed on top of a rock in the middle of the scenic road.
We arrived just before 6pm in another park: Capitol Reef. We've been there before, and it was a fun coincidence to have almost the same campsite in their main campground. We set camp, start a fire, cook some food and eat some sausages by the fire. We feel goood!
Thursday, Capitol Reef
We knew we wouldn't stay long here, but we wanted to "feel" the place, so we followed the recommandation of a ranger and walked on Cohab Canyon. The hike was short but very spectacular anyway.
And then we were asking to ourselves the same question: what's next? Do we go South and drive along the Burr Trail? We've been there before, we liked it, and from there we could go to Glen Canyon. But we want to go to Canyonlands, and so we have to go North. Manu wants to drive along a butte, and sleep in a remote campground first. We start driving there, but we are very soon blocked by a wash: there no more road, and there's no way that we can cross it, even with our big car. So we go back to the main road, and head towards Canyonlands. We plan to sleep in Moab, and as soon as I've got some service on my phone, I book an Airbnb for the night.
A nice trail to start the day : Cohab Canyon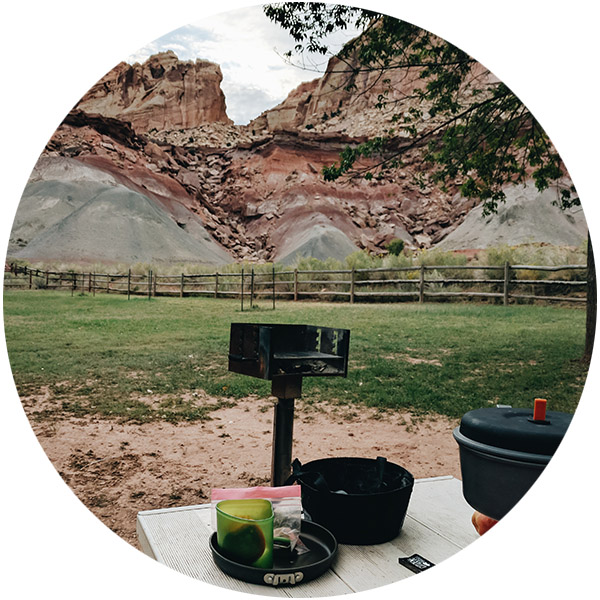 Campsite #45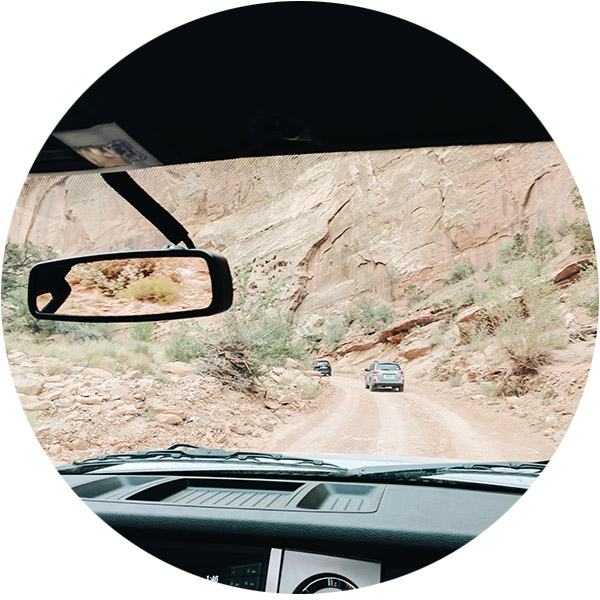 Scenic Road in Capitol Reef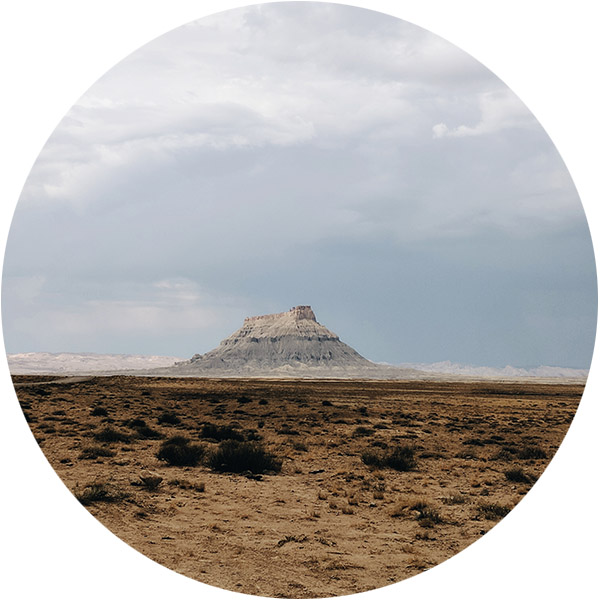 The very impressive Factory Butte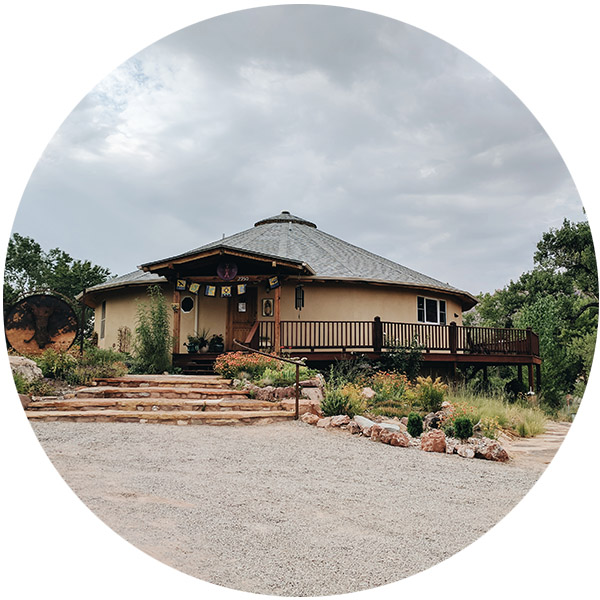 Our Airbnb in Moab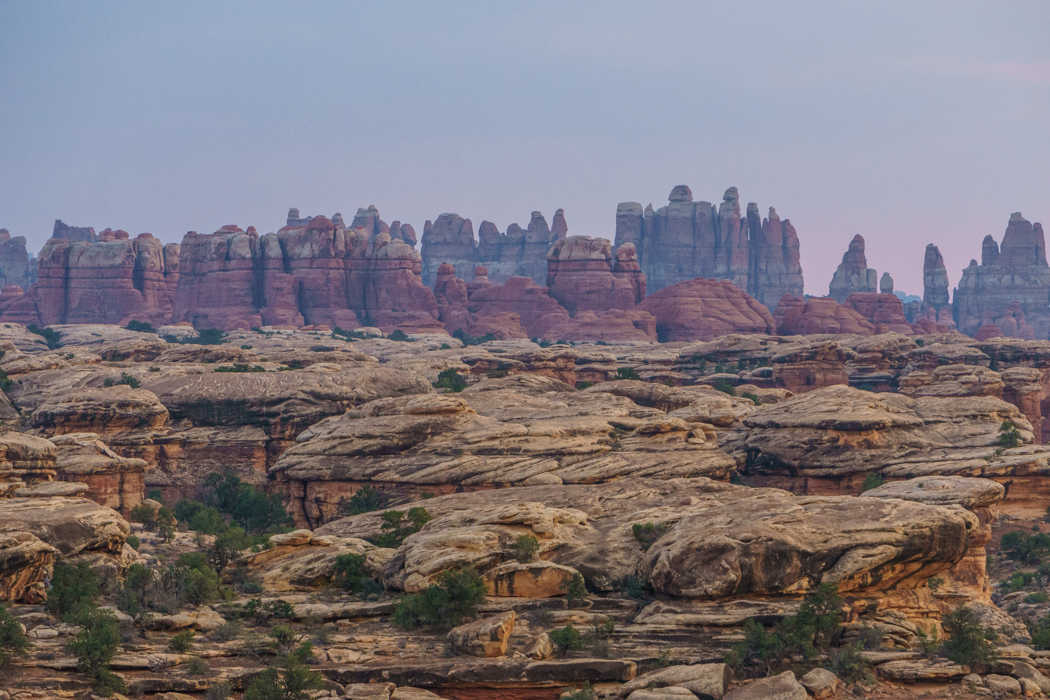 Sunset on the Needles, in Canyonlands
Friday & Saturday
the Needles District in Canyonlands
I love our hotel room… so we decide to stay the night after, but first we will spend one night in the Needles, in Canyonlands. This is a huge national park of Utah, very impressive, close to Arches. We spent a few days there a few years ago. It has 3 districts: Island-in-the-Sky, the most famous one, where you have an overview on the canyons, and 2 others, The Needles and The Maze. The Maze is pretty hard to reach and requires more preparation. We drove to the Needles. We did 2 beautiful hikes, and most of the time we were just by ourselves. At the end of Saturday night, we were already back from this dreamy landscape and to Moab.
Sunrise on the Needles // Fun walk in the middle of huge rocks
Sunday,
Rafting in Moab!
It's 8.30am, and we are the last ones to hop on the school bus that takes us to go rafting in the Colorado River. I've always pictured rafting as something really intense in whitewater, where you paddle hard and fall in the water. But the guide tells us right away: the water level is low, it's gonna be an easy ride. And indeed, it's pretty smooth. We are 4 on the boat in the morning, plus our guide who is the only one paddling. In the afternoon, 3 more people join us. The picture below represents probably one of the most intense time of the ride. So you guess, it was actually pretty relaxing. The only problem was the sun burning my thighs… I came back with a weird tan line.
On the water and under the sun, in the middle of canyons
At that point on our trip, we are still not sure where to go next: we still have 3 nights, and the last one will be in Las Vegas. In order to go back on a different road that the one we came here, we could drive by Monument Valley… and that's what we pick. At night, we sleep in a pretty regular motel… where we meet readers of the blog!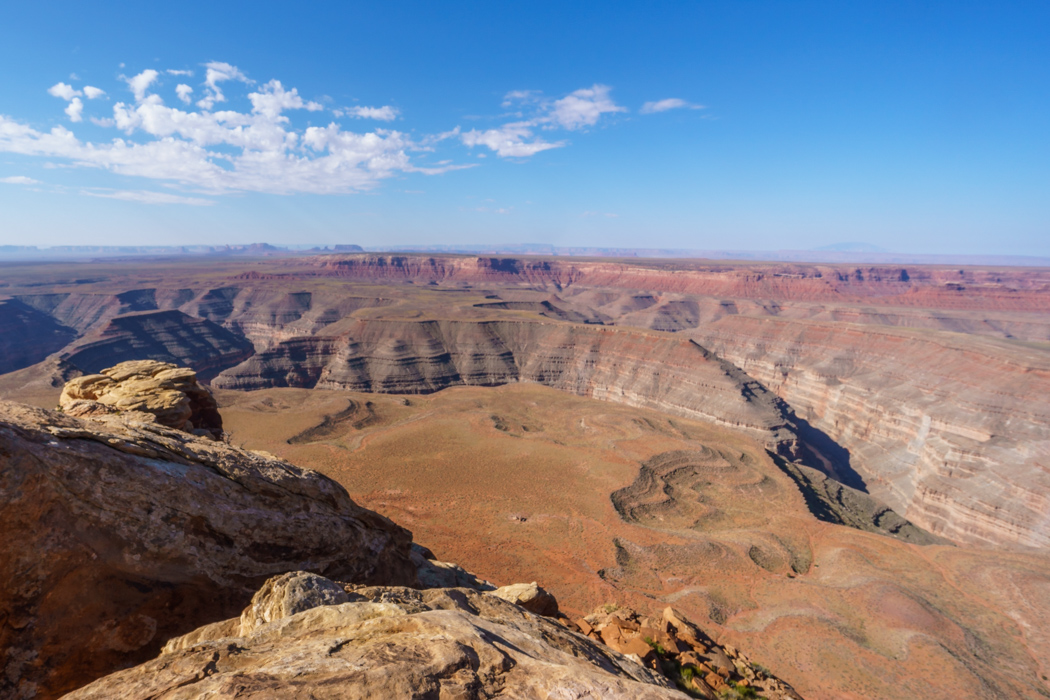 Muley Point, and the view of Gooseneck
Monday
Monday morning, we drive, it's pretty, it's hot, there are tons of rocks. I am absolutely not blasé, and I should write instead: we drive!, it's pretty!, it's hot!, there are tons of rocks! We go see a view point of Gooseneck park that was recommended by our rafting guide. That's her favorite camp site in all Utah! Indeed, it's very impression, canyons everywhere, buttes on the horizon, and a very, very, silent place.
On the way back, a car is stuck in sand, I'm glad we are driving this big car and Manu goes out to help them. We keep driving, going down a famous road called Moki Dugwai, it's a narrow and steep road by a canyon, the last time we drove on it was at night, just to make things more dangerous. Everything is scenic here: we go through the Valley of the Gods, buttes and buttes everywhere, on a dusty red plain.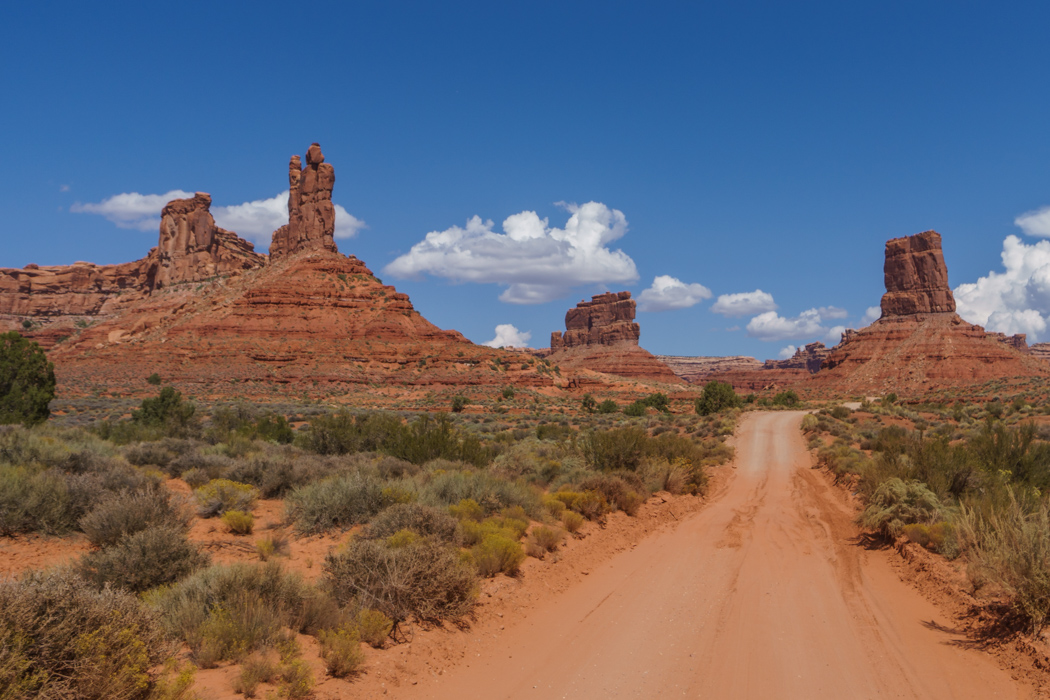 The buttes of theValley of the Gods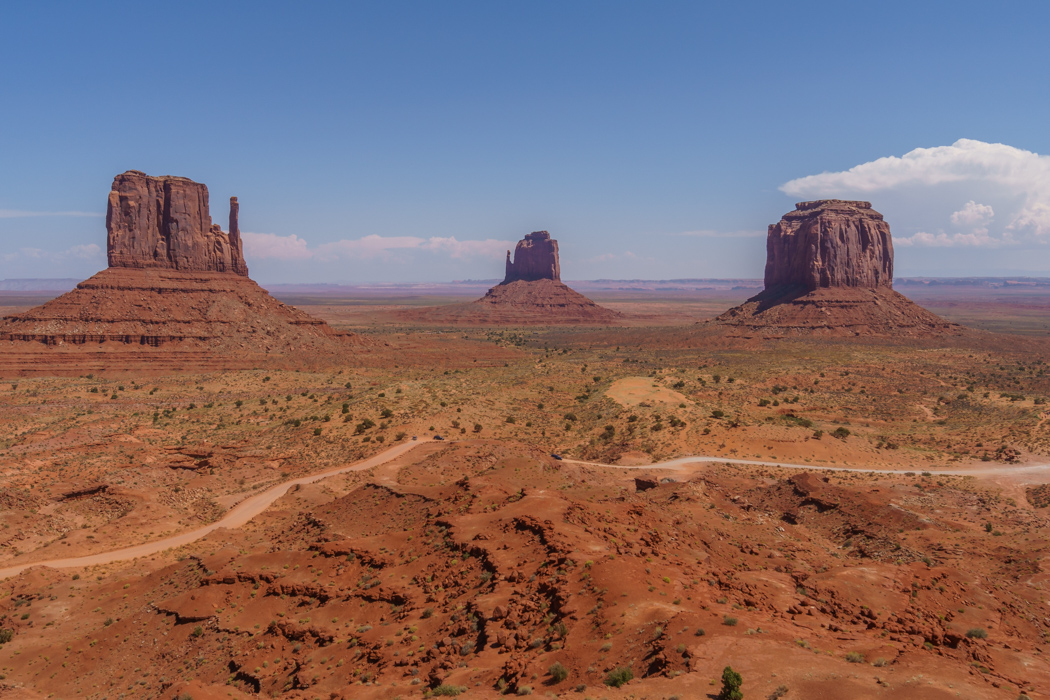 The very famous Monument Valley
Monument Valley
Those who follow me on Instagram know that I didn't like the ambiance of this place plagued with mass tourism. It looks like if you do a road trip in the US, you have to stop here, it became the most famous image of the american road trip, but it costs this place its authenticity. We are in the middle of buses, cars following each others, horses waiting in the sun for pictures pretending that you're alone in the desert. No thanks. I've read the comments on my picture on Instagram, some of you loved this place, went there in the off-season or don't care whether it's crowded or not. Others are mad at me for criticizing this Navajo landscape. I know they live in poor conditions, I've been to the museum downstairs the boutique, and I recommend it more that the road trail.
⁂
When we left the valley, we drove for a long time on a crowded highway, the traffic is intense because of storm washed a road. Time stretches, like it is sometimes the case during a road trip. But we have podcasts to listen to! We decided to stop in Sedona, instead of going to the Grand Canyon: we thought that it would be too quick to stop there just for a few hours, and we have to be in Vegas the night after anyway. Before going to our hotel, we spend the night in a micro-brewery in Flagstaff. We were able to book a discount room at the last minute and our hotel is in a very bling bling golf resort, where we arrived wearing our hiking gears…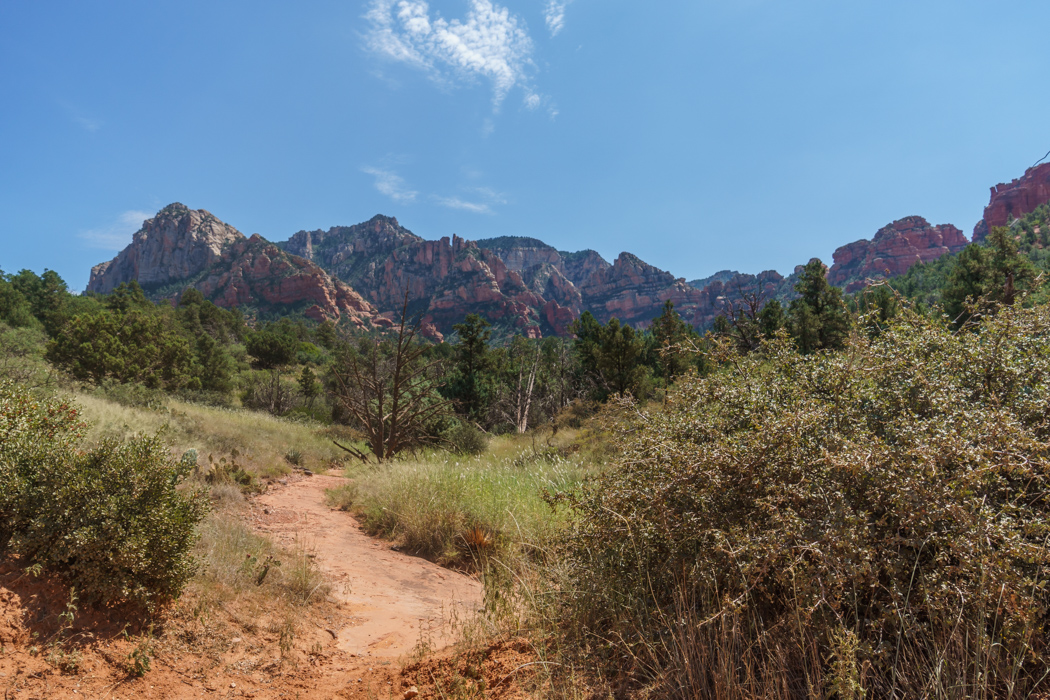 Trail in Red Rocks, in Sedona, Arizona
Last day in Sedona, Arizona
We discover Sedona for the first time, in broad day light. It's a very clean city, which reminds me of some parts of Florida. Kinda fake in some ways, very sunny and colorful. The natural scenery surrounding the city is incredible: Sedona is in the middle of red rocks, canyons, mountains. It's gorgeous. We walk in the morning in a well-named Red Rock Canyon.
We have to go back to Las Vegas, and to return our dear car. As we drive West, the temperature rises. We make one last stop at the Hoover Dam, built in the 30s. We wash the car and it's time to say good bye. We spend the night in Las Vegas, this time on the Fremont/downtown district. And the road trip ends the day after when we fly back directly to Boston.
… and we're back to Vegas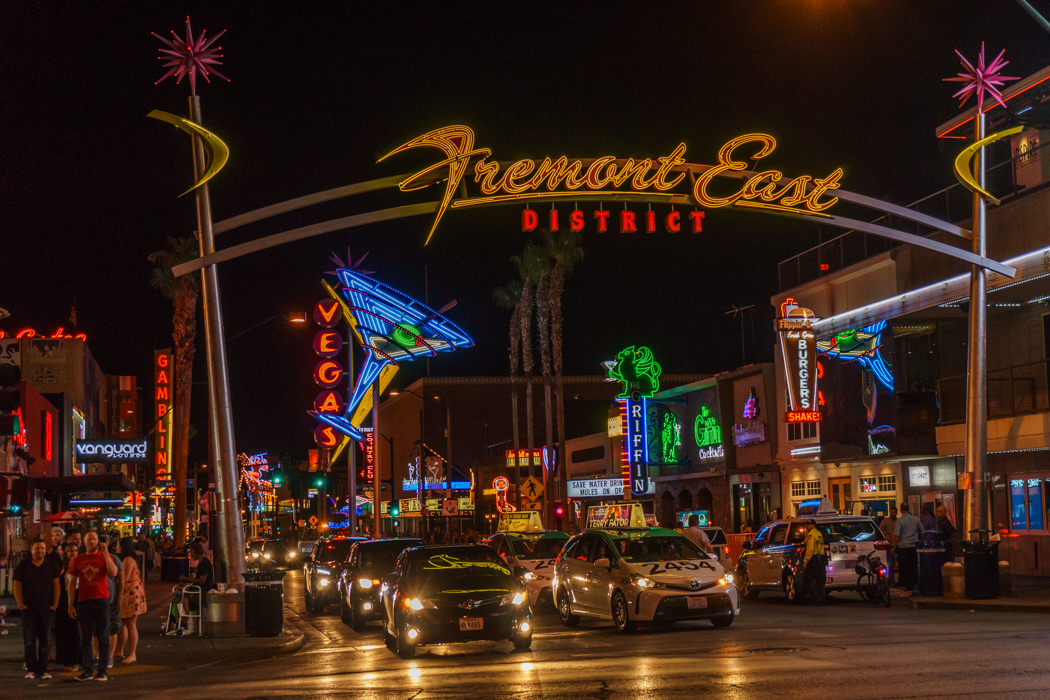 We go out and eat sushis in Fremont
I hope that you enjoyed this recap! We loved this vacation and had a great time road tripping in Nevada, Utah and a little bit of Arizona. It was sometime a hassle to find the best route, the best hikes and stops, everything looks smoother when it's over, but we had to ask everyday to ourselves: what's next!? I'll write in the next weeks longer articles about my favorite stops. And don't forget, if you like it, comment it and share the article!
❣