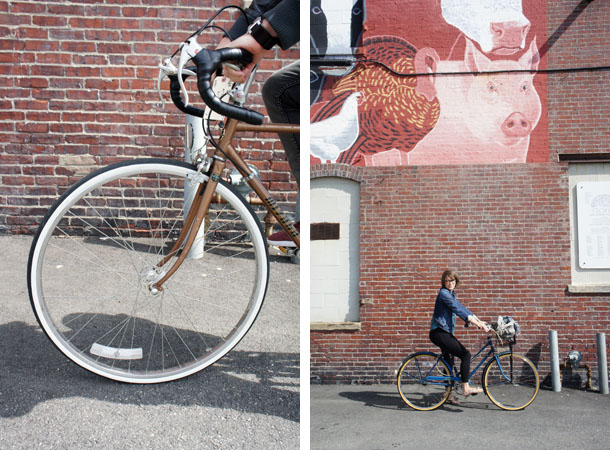 Cross the streets, hair flying along the wind, looking at buildings… Boston seems a bike-friendly city, with cycling routes. And Boston is so anti-subway (so slow, and so few) that it's the liberation we've been expecting for weeks: we have bikes. We thought about it a lot, and we finally went there to buy a them in a vintage shop in Cambridge. After several hours in the shop, each one of us had a bike: for me, an british bike, a Raleigh from 1972 and Manu chose a golden-brown Japonese racing bike, a Myata from 1980 (Manu actually did the research).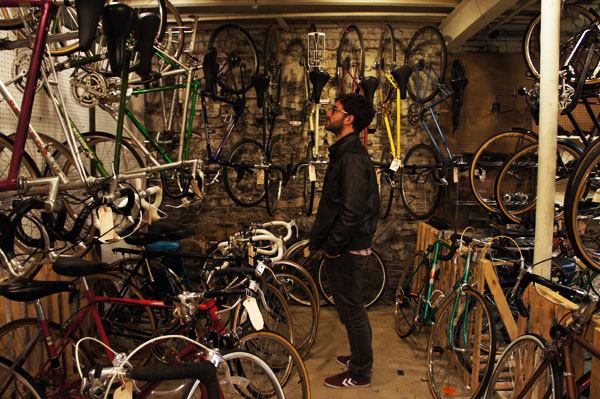 Manu found this vintage shop in Cambridge. Even if they have an old-school  website which would deserve a new look, we read a lot of good reviews and want to go there (we wandered too much on Craiglist, and need a real shop with real people).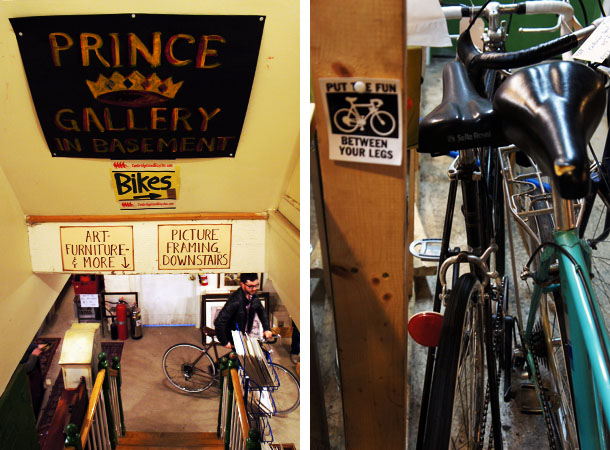 I asked Vinny, the tattooed seller, if he got a bike with "this and this, or this and of course this". I said it with a lot of gestures, because I didn't know how to say words such as "mudguard,  "speeds", "back light" and "a bell" (still not sure about these words). I watched  at every bike and finally had a crush for an old blue one. I tried it and adopted it right away, even if I still like my Parisian bicycle, so light and fast (a Giant bike). Manu took more time to choose an incredible golden-brown bike (I'm jealous, but I don't know how to ride this type of racing bike). Back home, we didn't let the bikes sleep on the street for the first night with us, and took them in our flat.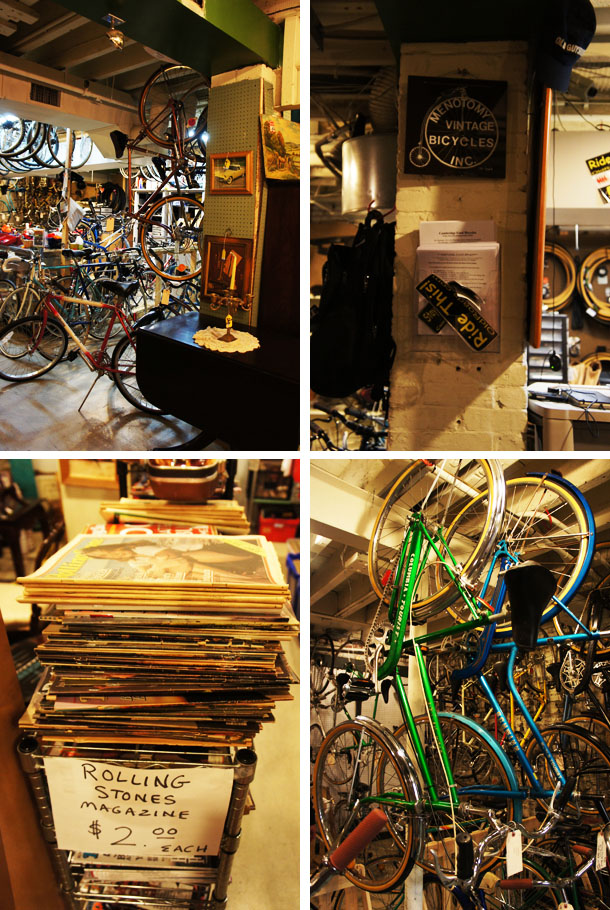 I know, people always repeat it to me: ride a bike in a city is dangerous. But I've been riding for a long time, and in different cities and countries. I'm confident with myself. [NB: and I'm absolutely not with a car…]
I had this conversation over and over with bike-frightened people: I know somebody who know somebody hit by a car while riding // I pay attention, I don't ride close to the parked cars, I'm respectful of the lights (okay, maybe except during the night) // I know, you're not the problem, cars are! // I pay attention to taxis and buses, my worst enemies.
Dialogue of the deaf. But still, I'll buy a helmet, for the first time in my life (I have to put it on my to-do list, the one with the stuff I'll really do). Helmet will protect me for being handicapped AND ruined for the rest of my life (I still don't know how my insurance works here).
I've seen a map of bike accidents in Boston, it's very precised and also mentions the type of injuries…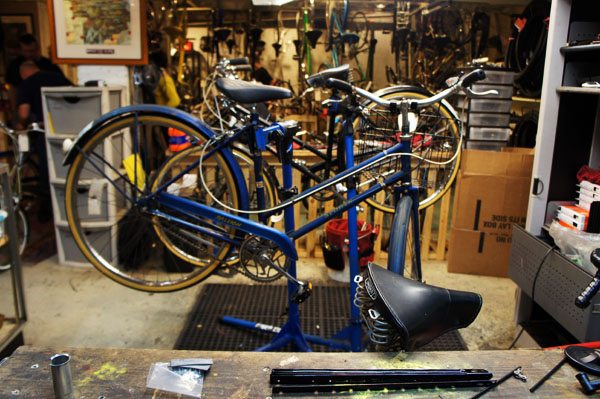 My bike's got a basket !
Boston is a flat city (except some hills…), it seems easy to ride here.
We can rent a bike, it's called a Hubway. They remove them during wintertime.
I can plan trips on a "Bike Maps"