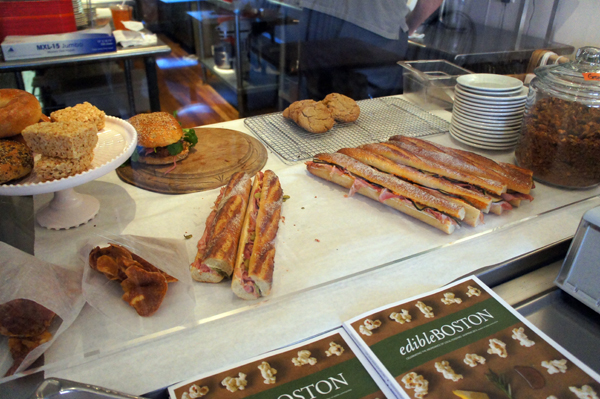 I'm sometimes wondering what do I miss from France. I know it's 100% cliché but what I really miss is eating good bread. And especially a baguette: nice crust, fresh breadcrumbs. We've been there for almost 3 months and every morning we open the bread pack, a bread that never get moldy, which it's strange. Sometimes, I go to buy some bread in a so-called "French Bakery". I buy Italian bread, but… it's not the same. Stop complaining, there's plenty of good food here. I know… temptations of the junk food are everywhere, specially in the Food Court of the university…
Cutty's, « Best sandwich shop in Boston »
Cutty's is a nice place to have a sandwich for lunch, in Brookline. There's a few tables to sit down, it's more a place to take-away. My conversation partner brought me there the first time, she attracted me saying that they were making sandwiches with baguette. Interesting. We took the same sandwich (the Food Code usually forbids this: "don't chose the same dish as your friend, because you have to taste different dishes"): roast beef 1000. Very thin slices of roast beef and a delicious sauce. Yummy!!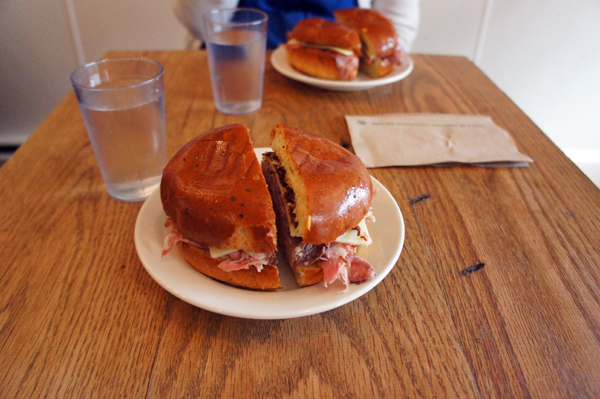 Deep Ellum, the bar next door
This bar is really close to our apartment. But according to another principle of our Food Code " always walking miles to go to a bar, even if you've got a decent one close to your place", we just ignored Deep Ellum for a while.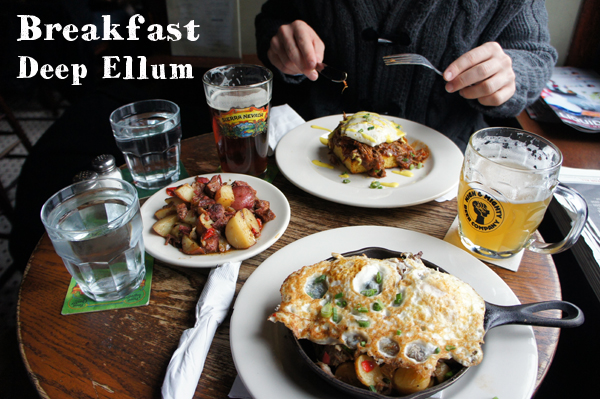 We went there on a Saturday, around 3 pm to have a breakfast, as the menu indicated it (and contrary to what you can see in our plates above). Yes, we had beer for breakfast, but it was St Patrick's Day, and it's the official beverage on that day. We are always surprised by the amount of choices of beers in bar here in Boston. We trusted the waitress: I asked for a lager and Manu asked for a stout one. Only a few dishes are on the menu, but as soon as I saw there was duck, my choice was made. It was rustic and simply good.
Food Court : a burger and some fries
We sometimes use the following pretext to eat badly: "we want to live as Americans". That's why I go with Manu eating in the BU food court. There's a lot of choices: salads, burritos, pizzas, sushis… But we always go to the burger stand. And each time, we said to ourselves: it was the LAST time. The burgers are not very good and rather fat. But it's just for a lunch, Manu doesn't take the time anymore to have long (French) break for lunch. One of the sides of the burger is terrible: curly fries. Evil. I always feel bad when I leave the food court.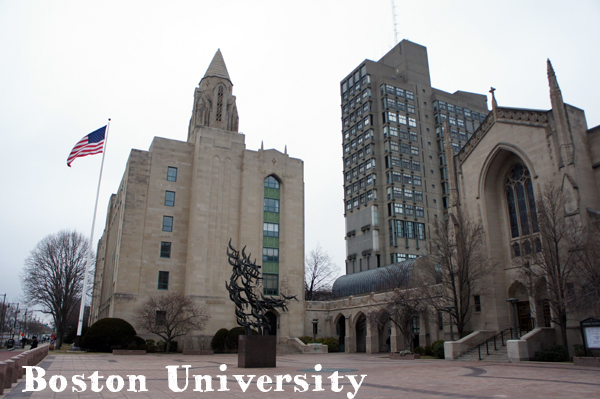 Inspiration to go to new places: Lunch, anyone ?